---
Please share with those that are riding with you (1) the unit number and (2) where to be, also make sure to tell them to be ready to go no later than 2:00 p.m.
Christmas Parade Line-Up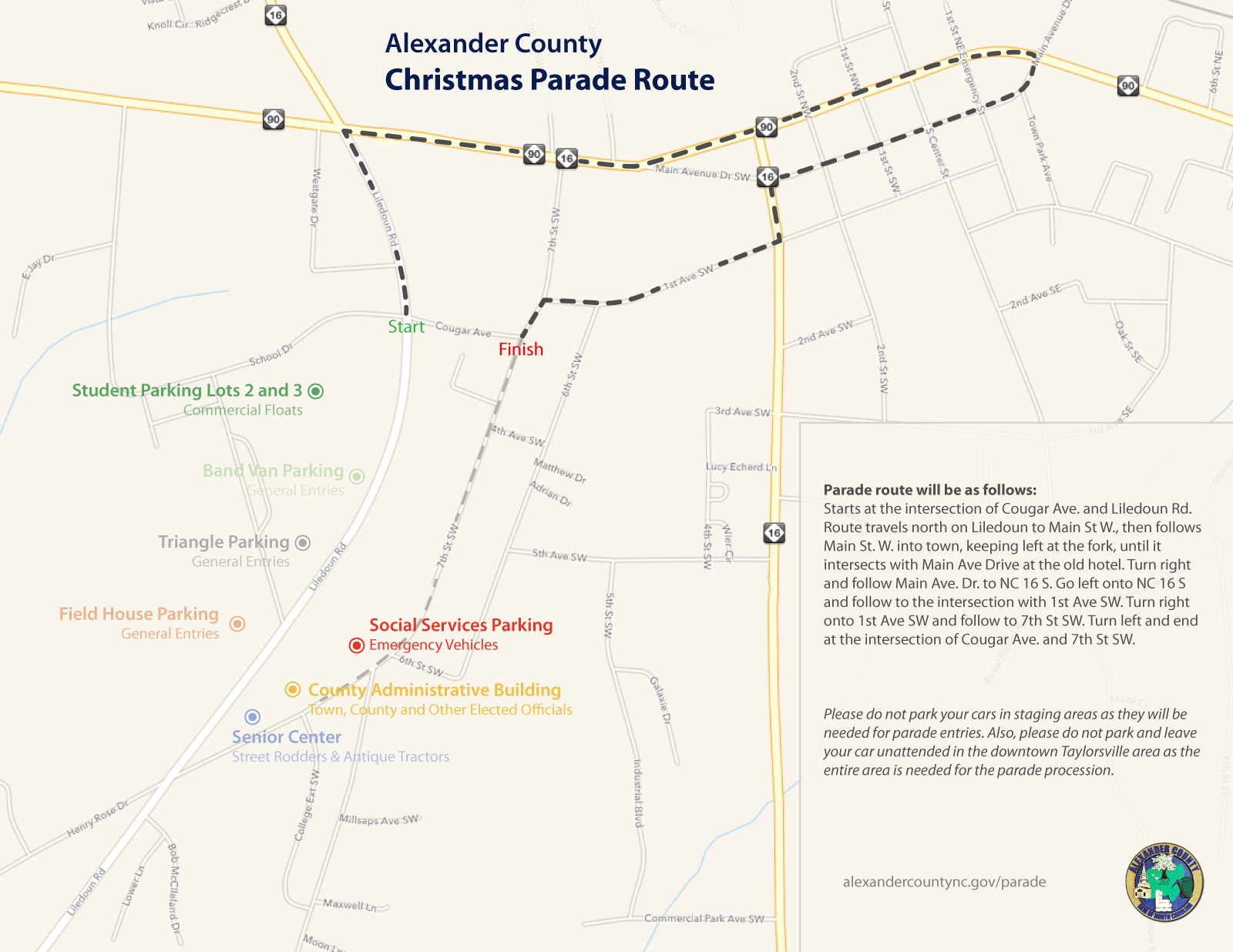 Alexander County Christmas Parade Guidelines And Fees
The Alexander County Christmas Parade is being sponsored by the Alexander County Government. Entries are now being taken for the 2021 Alexander Christmas Parade. The parade will be held Saturday, December 4, 2021, beginning at 3 p.m. Alexander County citizens make the parade a huge success and the public is encouraged to invite everyone to come out and be a part of the parade.
Entry forms are available at the Alexander County Cooperative Extension Department which is located at 151 West Maine Avenue-Suite 2 in Taylorsville. The deadline for parade entries will be 4 p.m. Friday, November 19, 2021. Entries received after this date may be accepted if space is available (we are limited to 200 entries); however, there will be a late fee of $25.00. All fees will be collected at the Cooperative Extension offices before you are officially registered to participate in the parade.
Fees for Entries are as Follows: (If registered prior to the November 29, 2019 deadline)
$20.00 Elected Officials
$20.00 Individual vehicle, horse, motorcycle (Not a group)
$30.00 Children's school, recreation, ball teams (Please NOTE – multiple teams riding together, like the cheerleaders in the bed of the truck and the football team on the trailer behind the truck – this is TWO entries, not one, please!)
$60.00 Church, Civic, or Adult Non-Profit Clubs and Organizations (Vehicle Clubs are limited to 10 vehicles for the $60 entry fee. Additional entries are $10.00 each.)
$125.00 Commercial Business Entry (not a rented float) (limited to no more than two vehicles that must travel side-by-side.)
$475.00 Commercial Rented Floats (music or generator will be $60 extra)
$300.00 ½ of a Commercial Rented Float (music or generator will be $60 extra)
Exemptions to Entry Fee
All fire and emergency vehicles, (If registered prior to deadline)
Individuals/groups riding on sponsored professional floats
Invited guest
Please call the Parade office at 828-632-4451 or e-mail alexanderchristmasparade@gmail.com for entry information.