Brief History of Alexander County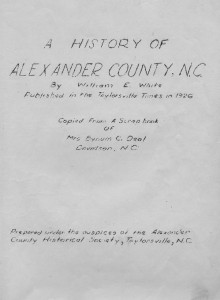 Alexander County was established in 1847, the year of the first sale of land in the county seat (Taylorsville). With the proceeds from the sale, the first courthouse was built on the present site. When the Civil War began, Alexander County was 14 years old. The 1860 population was 5,837; yet Alexander County ranked high per capita in the number of Confederate soldiers serving in the war.The county is named in honor of the Alexander family who were leaders in Colonial North Carolina. Taylorsville is the namesake of either John Louis Taylor, Carolina agriculturist and political philosopher, or General Zachary Taylor, the 12th president of the United States.
The county is served by US Highway 64, which is controlled access roadway connecting Taylorsville with Lenoir and Statesville. NC Highways 90, 16, and 127 also serve the county. Interstate 40 and 77 are just 30 minutes from the majority of county residents. The Charlotte Douglas International Airport is an hour's drive from most parts of the county. The area is also served by the Hickory Regional Airport (30 minutes) and the Statesville Airport (20 minutes). The Alexander Railroad Company is an active short line rail system operating between Taylorsville and Statesville and connecting with Norfolk Southern.