ALEXANDER COUNTY, NC (August 7, 2019) – Rocky Face Mountain Recreational Area is garnering attention locally, regionally, and statewide as the number of visitors and participation in the Vertical Mile Challenge (VMC) Club continue to climb as the park's popularity grows, putting Alexander County on the map for hikers, rock climbers, and outdoor enthusiasts.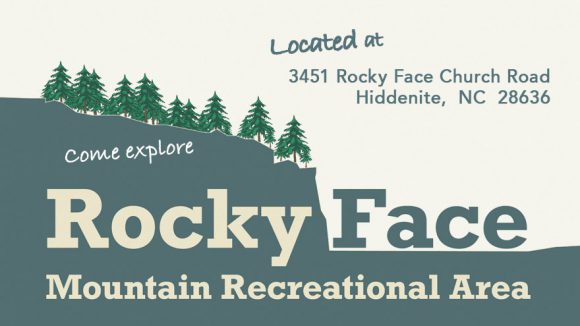 Alexander County Manager Rick French said the park is a tremendous asset to the county, as it provides recreational opportunities for citizens and attracts many visitors.
"It's exciting to see how many of our residents are enjoying the great outdoors at Rocky Face Park. The county is pleased to be able to offer such a unique park destination because a lot of hard work went into the planning and development of Rocky Face Park. I would like to thank our County Commissioners for their support to make the park a reality," French stated. "About one-third of those who visit the park are from outside Alexander County, which is a benefit to our local economy as they dine and shop here, too. We're so pleased that Rocky Face Park has become a tourist destination, right here in Alexander County."
Rocky Face Park, which was opened in May 2012 by Alexander County Government, is approximately 318 acres in size with six miles of hiking trails, a one-third-mile paved walking track in the former quarry area, 60 established rock-climbing routes, an adventure playground, a primitive campground, a multipurpose building, a picnic shelter, restrooms, and more. Along the popular hiking trails are some beautiful views which add even more to the park's appeal. The park is on the North Carolina Registry of Natural Heritage Areas.
Alisha Stamey, Head Park Ranger at Rocky Face Park, said she and her staff take pride in park upkeep to ensure the safety and happiness of the thousands of people who visit the park every year.
"The park's visitation numbers continue to grow. In fact, the park has had 163,785 visitors who actually signed the visitation log since the park opened seven years ago, which is amazing to me. Although we ask that everyone sign in for their safety, we know there are many people who don't, so the numbers are much higher, of course," Stamey said. "It's a great feeling to be a part of the team that helps our residents and visitors enjoy the great outdoors right here in Alexander County."
Stamey said that of the 163,785 who signed in, approximately 110,000 were from Alexander County and 54,000 were visiting from another county. Those who signed in at the park indicated their reason for visiting. Those statistics show that hiking is by far the most popular activity at 59 percent, followed by 21 percent who walked on the paved track, eight percent who enjoyed a picnic, seven percent who participated in rock climbing, while others enjoyed wildlife viewing, camping, educational activities, geocaching, and more.
In addition to the general activities at the park, the numbers continue to climb for the number of participants in the Vertical Mile Challenge (VMC) Club. The "club" began in 2015 following the first-ever Vertical Mile Challenge trail race, which is held annually in June. As of June 30, there were 5,890 participants in the VMC Club. The VMC race and club were developed by Alexander County staff as a way to encourage fitness and outdoor fun at Rocky Face Park.
Runners, hikers, and trail enthusiasts are encouraged to complete the VMC course and join the club over a period of days, weeks, or months. Participants must complete the two-mile course eight (8) times to make a vertical mile (5,280 feet up and 5,280 feet down) for a total distance of 16 miles. The course includes the "Stairway to Heaven" trail, which continues to grow in popularity due to its beautiful views and level of difficulty.
Challenges include one VMC (eight laps), five VMC (40 laps), 10 VMC (80 laps), and 100 VMC (100 laps). There are 5,890 people who have completed a challenge or are in the process of completing one, with almost half of the participants residing outside Alexander County.
Of the challenges, there are 4,166 people working on one VMC with 1,724 finishers, 993 participating in the 5 VMC with 325 finishers, 178 participating in the 10 VMC with 147 finishers, and 41 participating in the 100 VMC with 106 finishers. There have been several participants who have exceeded 500 laps of the VMC course. As participants achieve each milestone, t-shirts and prizes are awarded for their efforts.
"The VMC course is about the perfect challenge for most people who want to get outdoors, enhance their fitness, and participate in an activity with friends and family at their own pace," Stamey said. "The 'Stairway to Heaven' portion of the trail is what makes it so unique, with the beautiful views and steep hike. We never thought the VMC would get so popular!"
The VMC trail race, which challenges runners to complete eight laps as quickly as possible, was held in June 2019 and attracted approximately 200 people from all across North Carolina and other states. The first VMC race back in 2015 attracted only 15 people, so the word is spreading about the race venue and its difficulty.
Alexander County staff have been instrumental in making the park and its events more successful each year.
The Rocky Face Park project was initially made possible by a $477,000 grant from the NC Parks and Recreation Trust Fund (NCPARTF). The land was donated to Alexander County by the Carolina Land and Lakes Resource Conservation and Development District. Additional assistance related to the land donation and acquiring additional land was provided by the Felburn Foundation. A second NCPARTF grant was awarded in 2015 to provide additional amenities to the park. Support of the Alexander County Board of Commissioners and staff input were instrumental in the park's development.
The park, located at 3451 Rocky Face Church Road in Hiddenite, is open 360 days per year (weather permitting) and is closed a total of five days during New Years, Thanksgiving, and Christmas. The multipurpose building (pictured above) is located just down the road from the main park at 3645 Rocky Face Church Road.
For more information, visit www.rockyfacepark.com or call (828) 632-1308.