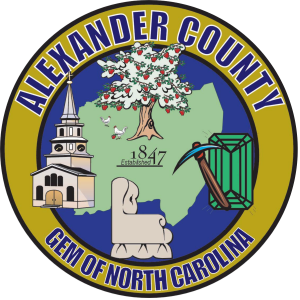 The Alexander County Register of Deeds (RoD) Office consists of the current Register of Deeds Scott Hines and staff members Diane Self, Dawn Rudisill, and Sherrie Yow. The year 2019 was a busy year with a new Register of Deeds on board. The Honorable Scott H. Hines took the oath of office in the last month of 2018 making 2019 a teaching and learning year, but a lot was accomplished.
In 2019, the office issued 161 marriage licenses, recorded 204 death certificates, and recorded three (3) births. Since Alexander County does not have a hospital, the office does not see a lot of birth certificates. Most Alexander County residents use hospitals in adjacent counties, and births are recorded in the respective counties of birth.
The Register of Deeds office made 1,566 certified copies of birth, marriage, and death certificates in 2019, as well as more than 4,900 uncertified copies of records in 2019.
Here's are the numbers of recorded instruments in the Register of Deeds office during 2019: Deeds – 1,287, Real Property w/Probate – 1,081, Satisfactions – 1,041, Deeds of Trust – 1,001, Plats – 149, and Quitclaim Deeds – 92.
In addition, the Register of Deeds office had more recordings of various records. In total, the office had 12,095 total transactions and collected a value of $416,625 for county and state government services.
In May 2019, the office moved from the Old Post Office building to the new location in the Alexander County Services Center. The office's floor space was expanded by 50 percent, and fixtures and furniture were updated.
"We hope the public enjoys the new accommodations when they need to use this office for land and vital records activity," Hines stated.
Moreover, the staff set up a "Marriage Kiosk" for prospective couples to enter their information to obtain their marriage licenses. An online marriage application was also added to the Alexander County RoD webpage so couples can input marriage information from the comfort of their home, using their own computer or device.
Of course, the Register of Deeds vault is a repository to preserve important records for the citizens of Alexander County. To that end, the office partnered with a technology and preservation company to restore and preserve the earliest Death Certificate books (Vol. 1-13), which covers the years from 1913 to 1926. Preservation and restoration ensure the integrity and content of paper documents to safeguard valuable documents for the future. In the past, acidic materials were used that deteriorate over time, making vital content illegible and paper brittle, even crumbling into oblivion. Preservation halts the deterioration, stabilizes materials, and allows for retention of documents indefinitely.
If you have any questions or need more information, please visit www.alexandercountync.gov/rod or call 828-632-3152.