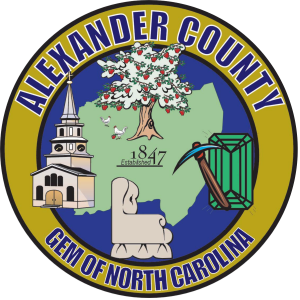 ALEXANDER COUNTY, NC (May 6, 2020) – County Manager Rick French presented the proposed 2020-2021 budget to the Alexander County Board of Commissioners at the regular meeting held online via Zoom on Monday, May 4.
The proposed General Fund budget for fiscal year 2020-2021 totals $42,892,442. There is no property tax increase, no tax increases in fire districts, and no fee increases for building inspections, zoning, or fire inspections. There are no new part-time or full-time employees in the proposed budget.
French said that departmental requests totaled $45,962,100, but he and staff worked to trim the requests. The original budget for 2019-2020 totaled $41,983,958 and currently stands at $43,697,216.
The proposed budget includes numerous capital outlay items, which will be set aside in contingency in departmental budgets until at least January 1, 2021 at which time the status of county revenues will be reviewed. Those items include: light poles at Bethlehem Park – $100,000, four vehicles for DSS – $90,000, ambulance box on a new chassis – $100,000, four vehicles/equipment for Sheriff's Office – $230,000, D.A.R.E. vehicle for Sheriff's Office – $57,500, vehicle for Emergency Services – $56,000, radio transmitter for 911 Communications – $25,000, Linney's Mountain Tower upgrade – $40,000, off-site disaster recovery node – $98,500, security cameras at two CVCC buildings – $20,000, and zero-turn mower for maintenance – $10,000.
French noted that the City of Hickory is proposing a 3.75 percent increase in water rates, effective July 1, 2020, subject to approval by the Hickory City Council.
Three substantial utility projects will be underway in the 2020-2021 fiscal year including a water line extension project, Bethlehem sewer project, and Stony Point Elementary School wastewater project. French said that while these projects require significant funding, they will provide economic development opportunities by adding hundreds of customers and property development.
The county manager also expressed concern about the economic impact of COVID-19, noting that all county revenue sources will be impacted as a result of reduced consumer activity and the corresponding economic downturn.
Commissioners will participate in a budget work session on Monday, May 11 at 6:00 p.m. in an online Zoom meeting. A public hearing regarding the proposed budget is set for Monday, May 18 at 6:00 p.m. via Zoom. Approval of the 2020-2021 budget is tentatively planned for Monday, June 1.
In other business:
• Leeanne Whisnant, Director of Consolidated Human Services, said the health department was notified on May 4 that Alexander County had one (1) new confirmed case of COVID-19, for a cumulative total of five (5) confirmed cases. She said the new case involves an individual who works at Tyson Foods in Wilkes County, where numerous employees have tested positive. The individual is in quarantine and recovering at home. The other four confirmed cases have fully recovered. Whisnant said that all five cases were contracted outside Alexander County where the individuals are employed. Currently, the health department is working with local businesses to help them bring employees safely back to work. She said that state COVID-19 numbers are leveling, which is a good sign. (Update: Alexander County was notified on Tuesday, May 5 about one new confirmed case of COVID-19, for a total of two active cases and a cumulative total of six confirmed cases.)
Doug Gillispie, Director of Public Services, said his department has been receiving supplies of PPE (personal protective equipment) from North Carolina Emergency Management, as well as some donations. Alexander County Emergency Management has distributed approximately 8,000 surgical masks and other supplies to the health department, fire departments, first responders, social services, hospice, nursing homes, and other agencies.
County Manager French said that the hiking trails at Rocky Face Park were opened on May 1. Park hours are currently 8:00 a.m. to 6:00 p.m., seven days a week. The license plate agency was opened on May 4 with safety measures in place. Most county buildings remain closed, with staff available by appointment only.
• Commissioners approved a proclamation requesting Governor Cooper to allow Alexander County and other rural counties to reopen businesses in a safe and responsible manner. The proclamation states that Alexander County has a low number of confirmed cases of COVID-19 and has not experienced the same effect from the pandemic as the state's urban counties. It also states that the county will work with local and state health officials to monitor the virus and will adhere to restrictions and guidelines. The proclamation expressed the need for businesses to reopen to allow citizens to get back to work.
• Commissioners approved the Alexander County Courthouse Park Master Plan as presented by David Icenhour, Executive Director of the Alexander County Economic Development Corporation. Icenhour said the plan is a "roadmap" for the future development of the park which is located between the Alexander County Courthouse and the Alexander County Services Center. The plan includes a performance stage, splash pad, playground, picnic shelter, and other amenities. Construction will require significant regrading of the site and the installation of water and electrical infrastructure to support the splash pad, stage, and park lighting. Commissioners will make a decision at their May 18 meeting regarding an application to the NC Parks and Recreation Trust Fund (PARTF). If the board proceeds with an application, they will seek funding in the amount of $400,000 which would be matched by county funds in the amount of $433,037. The master plan is available online at www.bitly.com/courthouse-park-plan.
• Commissioners approved a proclamation recognizing the week of May 17-23 as National EMS Week. It was noted that this proclamation means more this year than ever before as EMS employees are serving on the front lines during the COVID-19 pandemic.
• Commissioners approved a request from Guy Kerley, Tax Administrator, to waive late fees on business personal property taxes due to the extension of the IRS filing period and the fact that many accountants are not seeing clients in their offices during the COVID-19 pandemic.
• In the County Manager's report, French informed commissioners that a preconstruction meeting was held on April 28 for the Stony Point Elementary School wastewater project. The project is set to begin sometime in May, and will take 180 to 200 days to complete. Work began on the Bethlehem sewer project on May 4. The project will take approximately one year to complete.
The Alexander County Board of Commissioners typically meets on the first Monday of each month at 6:00 p.m. in room #103 at the CVCC Alexander Center for Education. The next regular meeting is Monday, June 1 at 6:00 p.m. A budget work session is set for May 11 with a public hearing set for May 18, both via Zoom. Meetings are recorded, and can be viewed on the county's Government Channel on Spectrum channel 192 or on the county's YouTube channel at www.youtube.com/alexandercountync. Meeting agendas, minutes, videos, and more are available on the county's website at www.alexandercountync.gov/commissioners.