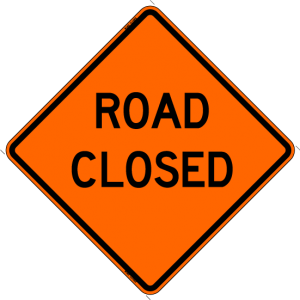 ALEXANDER COUNTY, NC (March 16, 2021) — Plans are now in the works for the repair of Old Wilkesboro Road (near Jaycee Park Loop), which has been closed since the flooding that occurred on November 12, 2020. The flooding caused a total of 16 road closures in Alexander County.
The repair on Old Wilkesboro Road was delayed due to utility conflicts; however, since the utility companies have been somewhat unresponsive and the expense to move the utilities was going to cost more than expected, the North Carolina Department of Transportation (NCDOT) has decided to proceed with the Old Wilkesboro Road project without moving any utilities.
NCDOT officials said the repair on Old Wilkesboro Road will be more difficult and the contractor will have to add a risk clause to the contract which will increase the repair cost, but it will still cost less than paying for moving the utilities and right-of-way acquisition.
The plans for a culvert headwall are currently under review in Raleigh. NCDOT anticipates opening bids on April 27 and then awarding the contract, with completion in late July.
Of the 16 roads that were closed, five roads have reopened including Millersville Road, Nester Road, Smith Grove Church Road, Sulphur Springs Road, and Sloan Road. One section on Berea Church Quincy Road is scheduled to reopen this week.
Alexander County Government appreciates NCDOT's response and hard work during these emergency repairs that resulted from the November 12th flooding.