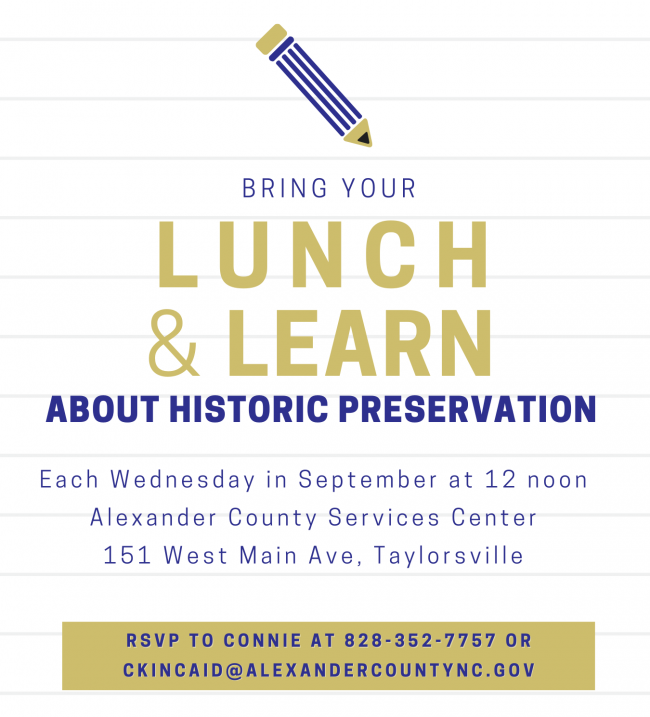 The Alexander County Historic Preservation Committee invites you to bring your lunch and learn more about historic preservation in North Carolina. "Lunch & Learn" events are scheduled for Wednesdays at 12:00 noon during the month of September at the Alexander County Services Center conference room, located at 151 West Main Avenue in Taylorsville.
Presentations will be made by members of the State Historic Preservation Office, a division of the North Carolina Department of Natural and Cultural Resources.
On Wednesday, September 7, Sarah Woodard David will review a brief history of historic preservation legislation that underpins the National Register of Historic Places and an overview of the North Carolina State Historic Preservation Office's structure and branches. The main theme of the presentation, however, is the National Register itself. The webinar defines the two necessary components for National Register listing, which are architectural integrity and historical significance. The presentation presents the process for National Register listing in the State of North Carolina.
On Wednesday, September 14, Jennifer Cathey will discuss the Secretary of the Interior's Standards for Rehabilitation. The standards are professional dos and don'ts for old and historic building work developed by the National Park Service and adopted nationwide as a guide for planning and design of successful building reuse. She will explore the origins of the standards, their use in various regulatory and non-regulatory settings, and how the standards apply to various commercial and residential building projects to illustrate their use.
On Wednesday, September 21, Brett Sturm will examine Historic Preservation Tax Credits. Have you ever wondered how people tackle a historic building rehabilitation project? In this presentation, Sturm will outline the income-producing and non-income-producing rehabilitation tax-incentive programs available to owners of eligible historic properties. He will discuss program eligibility and the application and review process, and illustrate examples of how transformative these programs have been in spurring history-conscious economic development in towns and cities of all sizes across the state over the past four decades.
On Wednesday, September 28, Andrew Edmonds will provide a tutorial for operating the NC State Historic Preservation Office GIS system. HPOWEB is a mapping application that displays more than 125,000 individual historic resources and districts surveyed by the NC Historic Preservation Office. After participants watch the tutorial video by Edmonds, they will be able to use the site and easily answer some basic questions, such as: Is my house or building within a National Register or Local Historic District? Is it eligible for historic rehabilitation tax credits?… and much more.
The "Lunch & Learn" programs are brought to you by the Alexander County Historic Preservation Committee. Webinars have been produced and archived by Leverage NC, which is a partnership between the N.C. League of Municipalities (NCLM), the N.C. Department of Commerce and its Main Street and Rural Planning Center, the N.C. Downtown Development Association, and the N.C. Department of Natural and Cultural Resources.
The public is invited to bring a lunch and enjoy these free presentations. If you wish to attend, please RSVP to ckincaid@alexandercountync.gov or call 828-352-7757.