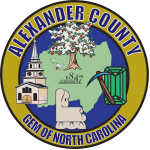 ALEXANDER COUNTY, NC (December 9, 2020) – Josh Lail and Jeff Peal took the oath of office on Monday, December 7 to begin their four-year terms on the Alexander County Board of Commissioners. Judge Dale Graham administered the swearing-in ceremony at the board's regular meeting. Commissioner Peal is serving his second consecutive four-year term on the board, while Commissioner Lail is serving his second four-year term on the board after a two-year hiatus.
Commissioners unanimously elected Larry Yoder as chairman and Ronnie Reese as vice chairman of the board.
Members of the Alexander County Board of Commissioners include: Larry Yoder, Ronnie Reese, Josh Lail, Jeff Peal, and Marty Pennell.
In other business:
• Ko Tang Cha-Moses of Martin Starnes & Associates CPAs presented the 2019-2020 audited financial statements. Commissioners were informed that the county audit received an "unmodified opinion," which means the CPA firm found no material misstatements that led them to believe the financial statements would be misleading to the reader.
View the PDF of the audit presentation.
She reported that the General Fund Revenues were comprised mainly of property taxes at 50 percent, local option sales tax at 25 percent, and restricted intergovernmental (federal and state grants) at 11 percent. Property tax revenues increased $238,603 (1.15 percent). Local option sales tax increased $ 867,587 (9 percent). The restricted intergovernmental revenues increased $284,185 (6.7 percent).
In terms of General Fund Expenditures, the four largest areas of spending include: public safety (29 percent), human services (26 percent), education (19 percent), and general government (17 percent). Public safety expenditures decreased $169,777 (-1.5 percent). Human services expenditures increased $511,730 (5.67 percent). Education expenditures increased $291,635 (4.39 percent). General government expenditures decreased $139,648 (-2.15 percent).
General Fund debt balance as of June 30, 2020 totaled $4,411,596 with $411,596 (education) to be paid off in 2021 and $4,000,000 (public safety) to be paid off in 2026. Debt service payments for FY 2020 totaled $1,229,529.
Available fund balance increased $591,638, which brings the county's fund balance percentage to 33.34 percent (31.7 percent in 2019) of total General Fund expenditures and transfers, for a total available fund balance of $13,178,497. It was noted that the county's fund balance is comparable to counties in the population group of 25,000 to 50,000 residents.
The Solid Waste Fund showed a budgetary net income of $64,118. The Bethlehem Water Fund showed a budgetary net income of $296,408, while the remainder of the county's water and sewer funds had a budgetary net loss of $7,460 due to current water and sewer expansion projects. The county water and sewer fund has outstanding debt of $4,065,669 which will be paid off in 2035.
Chairman Yoder commended the Alexander County Finance Department staff for their professionalism, diligence, and hard work.
"No one understands the difficult tasks that are completed day in and day out by our finance department, but the work is especially labor-intensive during the audit process," Yoder said. "I would like to publicly express my appreciation for the hard work and dedication of our finance staff as they strive to be good stewards of taxpayer money."
• Commissioners approved a rezoning request for a half-acre parcel located at 6071 NC Hwy. 16 South. The property was zoned RA-20 but will be rezoned to H-C (Highway-Commercial) for the purpose of opening a retail store. The intended use is consistent with the future land use map.
• Commissioners approved a rezoning request for three parcels that total 2.3 acres near the intersection of NC Hwy. 127 and Ted Bolick Lane. The vacant land is currently zoned RA-20 but will be rezoned to H-C (Highway-Commercial) for the purposes of mini-storage units and office space. The intended use is consistent with the future land use map.
• Doug Gillispie, Director of Public Services, presented an update on the November 12 flood event which resulted in the loss of lives, property damage, and closed roads.
He said that 911 Communications received 809 total calls, which included 188 9-1-1 emergency calls. The first water-related call came in at 3:38 a.m. At one point, there were 50 roads affected by flooding, with 16 roads that remain closed.
Gillispie said there were more than 10 water rescues, not including a fatal accident on Hopewell Church Road and the situation at Hiddenite Family Campground. At the campground, 31 people were rescued; however, there were five people who died. He said there was an estimated 11 to 14 feet of water at the campground from the South Yadkin River after receiving approximately nine inches of rain.
He said an emergency shelter was established at East Taylorsville Baptist Church, which had a total of 35 occupants at one time. Alexander County Animal Services assisted with the occupants' pets. The church set up a benevolence fund for those who were rescued or lost family members in the flood.
Of the people who were rescued, there are currently 12 families in campers donated by Samaritan's Purse at the Taylorsville Lions Club Fairgrounds.
Gillispie said that Alexander County Emergency Services is working on state and federal emergency declarations.
"Everyone did a really good job. This was a very difficult day," Chairman Yoder said. "We're eternally grateful to the churches and citizens who stepped up and to the emergency personnel who answered the call and assisted during our time of need."
• Leeanne Whisnant, Consolidated Human Services Director, presented a COVID-19 update. The Alexander County Health Department has reported that 155 people are in quarantine with COVID-19, with a cumulative total of 1,816 confirmed cases. Currently, there are 19 people in the hospital. Sadly, there have been 19 deaths associated with COVID-19. Of the 1,816 total cases, 1,623 people have recovered.
Whisnant said there were 136 positive cases in September, 469 in October, and 585 in November, and believes December could be even higher partly due to Thanksgiving gatherings. She said there has been a total of 193 positive cases at the Alexander Correctional Institution.
She said the health department tested 140 people last week and continues to conduct drive-thru testing events at 10:00 a.m. on Mondays, Wednesdays, and Fridays. To make an appointment, call 828-632-9704.
Alexander County remains one of almost 50 counties in the "red" tier of the state's COVID-19 County Alert System for "critical community spread." According to the NCDHHS dashboard, Alexander County's current positive test rate is 16.3 percent, while the state has a rate of 9.7 percent.
Whisnant said the health department is gearing up for the COVID-19 vaccine, with 85,000 doses expected in North Carolina in mid-December. The department is making plans to administer the vaccine according to state guidelines.
Chairman Yoder said this is a critical time to do the right things to keep yourself and others safe.
"Wear your mask, do your social distancing, and wash your hands," Yoder said. "We need to be careful about what we do and how we do it. We will get through this, but we must work together to prevent the spread of the virus."
Gillispie said personal protective equipment supplies (PPE) are in good shape, and he is checking to secure alcohol prep wipes and band-aids for use during vaccine administration.
• County Manager Rick French presented seven budget ordinance amendments, which were unanimously approved.
• In the County Manager's Report, French reported that the North Carolina Department of Commerce will change Alexander County to a Tier 1 county in January 2021 due to a higher unemployment rate. He said the new tier should open up more grant opportunities in the future.
French also invited commissioners to a dedication of the barn quilt display on the east side of the Alexander County Services Center on December 8 at 10:00 a.m.
The Alexander County Board of Commissioners typically meets on the first Monday of each month at 6:00 p.m. in room #103 at the CVCC Alexander Center for Education. The next meeting is set for Monday, January 4 at 6:00 p.m. Regular meetings are recorded, and can be viewed on the county's Government Channel on Spectrum channel 192 or on the county's YouTube channel at www.youtube.com/alexandercountync. Meeting agendas, minutes, videos, and more are available on the county's website at www.alexandercountync.gov/commissioners.