ALEXANDER COUNTY, NC (October 18, 2019) — The 73rd Annual Alexander County Christmas Parade will be held on Saturday, December 7 at 3:00 p.m. in downtown Taylorsville. Sponsored by Alexander County Government, the parade will be a rousing success with the cooperation and participation of businesses and community groups throughout the county.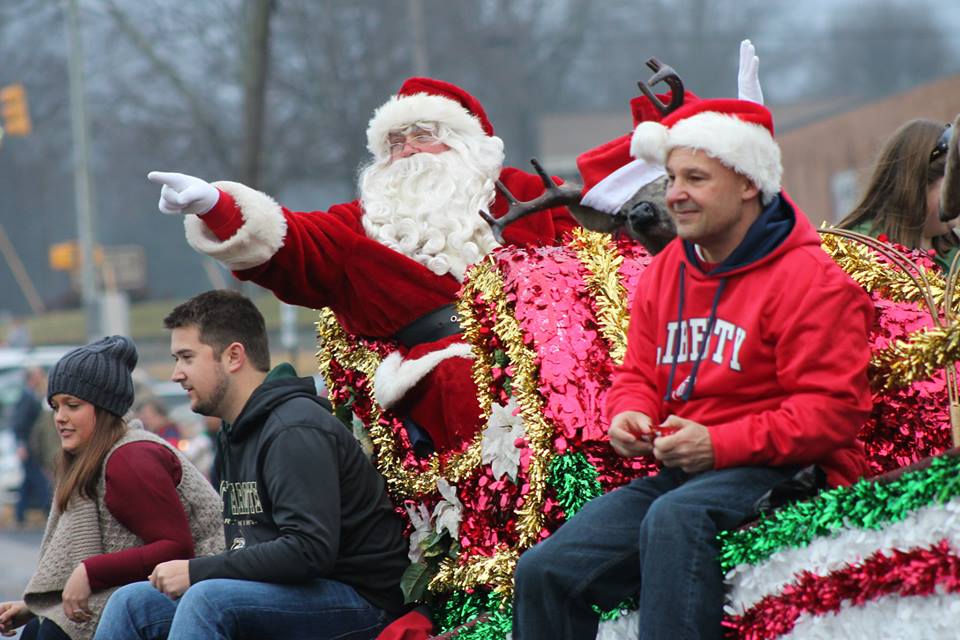 There will be approximately 200 entries, including floats, bands, sports teams, cheerleaders, beauty queens, tractors, classic cars, horses, and, of course, Santa Claus! Bring the family and enjoy this popular annual tradition in Alexander County. Parade participants will be throwing candy, so bring a bag for the children if you're interested.
The parade route begins on Liledoun Road, turns right on Main Avenue, travels through town, turns right on Main Avenue Drive, turns left at Adams Funeral Home, and turns right at the post office.
Entries are now being taken for the 2019 Christmas Parade. If registered prior to the November 29 deadline, entry fees are:
• $20 — Elected officials
• $20 — Individual vehicle, horse, motorcycle (not a group)
• $30 — Children's school, recreation, ball teams (multiple teams riding together are separate entries)
• $60 — Church, civic, or adult non-profit clubs and organizations (vehicle clubs limited to 10 vehicles for the $60 entry fee, with additional entries for $10 each)
• $125 — Commercial business entry (not a rented float) with no more than two vehicles that must travel side-by-side
• $475 — Commercial rented floats (music or generator will be $60 extra)
• $300 — Half of a commercial rented float (music or generator will be $60 extra)
Exemptions to entry fee include:
• All fire and emergency vehicles (if registered prior to deadline)
• Individuals/groups riding on sponsored professional floats
• Invited guests
The Alexander County Christmas Parade Committee is currently seeking nominees for the Grand Marshal for the parade. The Grand Marshal is someone who has made or is making a significant contribution to the quality of life in Alexander County. Grand Marshals have made contributions throughout the years through service, community involvement, church and civic activities, business growth and development, caring and concern for the county and its citizens, and other traits that are exemplary among the people of the county. The Grand Marshal will receive a plaque in recognition of their service to the Alexander County and its citizens.
Previous nominees for this recognition will also be considered, including Lee and Jane Sharpe, Joel Harbinson, Jerry Harmon, Coy Reese, Chris Bowman, Chris Meade, Nan Campbell, Traci Carrigan Fox, and Linda Graham. Grand Marshals from the past 10 years include: Ben Hines (2018), Joyce Brown (2017), Mary Wike (2016), Bradley Earp (2015), Dr. Russell Faulkenberry (2014), none in 2013, Hazel and Larry Yoder (2012), Tim Keever (2011), Sarah Loudermilk (2010), and Phil Icard (2009).
For more information, to download registration forms, or to view a map of the parade route, visit www.alexandercountync.gov/parade or contact Dwaine Coley at (828) 320-7614 or alexanderchristmasparade@gmail.com.