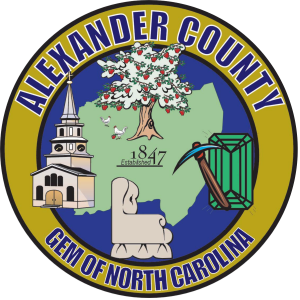 ALEXANDER COUNTY, NC (May 13, 2020) – Work is progressing well on Alexander County's current water line extension project. According to Buckeye Bridge LLC, contractor for the project, work should be "substantially complete" in approximately three months. Also, the county has expanded the water line project to include additional roads once the current project is complete.
Eight-inch water lines will be installed on portions of Zeb Watts Road, Liberty Grove Church Road, Dula Loop, Ned Herman Road, Poly Bowman Road, Deal Farm Lane, Kirkpatrick Lane, Espie Little Road, Icard Ridge Road, Teague Town Road, B&T Lane, and Fox Court.
Within the next 30 days, installation should be completed on Fox Court, Liberty Grove Church Road, Dula Loop, Zeb Watts Road, Ned Herman Road, and Poly Bowman Road.
As segments of the water line project get completed and tie into the county's water system, the contractor will turn on the water, flush the lines, and perform water tests to ensure water quality.
Residents who wish to tap on to the new water lines will pay a reduced tap fee of $541, which is a savings of $602 per tap courtesy of Alexander County Government and the City of Hickory. Residents should also begin contacting local plumbers to schedule the installation of their service lateral and connection to their home from the meter.
The current water line extension project will add 71,090 feet of new water lines that could serve 295 households. The project, which is being funded with zero-interest and low-interest loans from the North Carolina Drinking Water State Revolving Fund, is expected to be complete by September 2020.
At the April 20 meeting, the Alexander County Board of Commissioners voted to expand the water line project to include portions of Sanchez Road, RZ Bowman Road, William Reece Road, Clouse Road, Friday-Cockrell Road, Rabbit Hollow Road, AL Fox Road, Crowson Road, Outrigger Road, and Drum & Hammer Road. These water line segments total approximately 12,250 linear feet of 6-inch and 2-inch water lines and would connect to the existing Alexander County water system. Easement acquisition is currently underway.
County Manager French said that once the current water line is complete, the county would utilize the services of Buckeye Bridge for the additional water lines. The project will serve 50+ homes as well as agriculture purposes, and creates the potential for future development.
The water tap fee reduction will expire on December 31, 2020. Water connections may not be purchased for future use and immediate connection is required. Those who are interested in tapping onto existing or new water lines on the Alexander County water system should visit Hickory City Hall or contact the City of Hickory at (828) 323-7427.