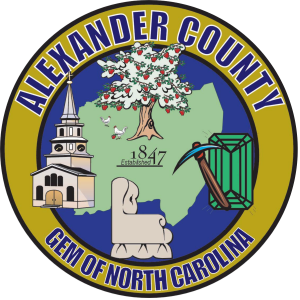 ALEXANDER COUNTY, NC (October 14, 2020) – At the October 12 meeting, the Alexander County Board of Commissioners presented a "Key to the County" to Lenny Rogers, who recently retired from his role as Cooperative Extension Director for Alexander County.
"Lenny has provided great service for almost 26 years and will be hard to replace," said Commissioner Ronnie Reese, who presented the plaque. "We wish you the best of luck. It will be a tough loss for the county. On behalf of the commissioners and the county manager, I appreciate all you've done."
Rogers expressed his appreciation to the county for a rewarding career.
"It's been an honor to serve the citizens of Alexander County. It's been a joy to come to work every day and help people," said Rogers. "I've worked with great people and great staff throughout the years."
Commission Vice-Chairman Larry Yoder said, "I think you've done an outstanding job for the citizens of Alexander County. You're to be commended on a job well done."
Aside from helping farmers across the county, Rogers was instrumental in creating the county's community garden project and managed the farmers' market each year. He also helped direct the county's annual Christmas parade, among many other duties.
During his first two years out of graduate school, Rogers taught several classes at NC State University and also worked as an Extension Research Associate. He then began his first NC Cooperative Extension position serving as an Area Farm Management Agent in seven western NC counties. Rogers was then promoted to the Western North Carolina Tennessee Valley Authority Program Coordinator for the 13 western-most counties. After five years, he returned home to work in Alexander County on January 1, 1995.
Alexander County Government would like to congratulate Lenny Rogers on his well-deserved retirement.
In other business:
• The Alexander County Board of Commissioners approved a resolution to refinance the debt on the law enforcement and detention center, which will save more than $140,000 in interest expense.
Bob Jessup, Attorney with Sanford Holshouser Law Group, first reported on the refinancing agreement at the board's September 14th meeting, at which commissioners approved a resolution to submit an application to the Local Government Commission (LGC) for approval of the refinancing.
Jessup said the refinancing agreement was approved by the LGC, so the final step was to approve the financing agreement with Truist Bank, which includes a 1.1 percent interest rate.
The original loan for the law enforcement and detention center was approximately $8.5 million with an interest rate of 3.19 percent for 15 years. The refinanced debt will be paid off at the same time as the original loan in January 2026.
Jessup said the loan will close on October 22.
• Commissioners approved a resolution to apply for an NC Commerce Building Reuse Grant for "Project Steeple Chase." David Icenhour, Executive Director of the Alexander County Economic Development Corporation (EDC), said the application would request $125,000 from NC Commerce to assist a local industry with building renovations. If awarded, Alexander County Government must provide a 5 percent match, for a maximum of $6,250. Icenhour said the business owner, which would commit to creating 10 new jobs, is expected to invest more than $500,000 in the project. The grant application deadline is October 22, with award announcements in December.
• Commissioners approved two conditional use permits at the October 12th meeting. Seth Harris, Zoning Administrator, presented information on the two cases.
Conditional Use Permit 20-1 will allow a lawnmower sales business on a 0.42-acre parcel at the intersection of Rocky Springs Road and York Institute Road. The existing building was formerly used as a gas station and a church. Roger Lail, the property owner, plans to use the existing building and construct an additional building which must be located at least 15 feet from adjoining property lines.
Conditional Use Permit 20-2 will allow a skeet shooting field on six acres of a 254.7-acre parcel located near the intersection of Payne's Dairy Road and Carl Fox Road. Jimmy Gray, a partner in Gray Area Lands LLC which owns the property, said they plan to lease a six-acre field to the Hickory Skeet Club, which has been in existence since the 1960s but recently lost access to its location due to a change in land ownership. The club is private, with approximately 100 members. No firing of pistols or rifles will be allowed, and only steel shot can be used in shotguns. The land surrounding the shooting field will be replanted with trees to help reduce noise. Hours of operation are limited to 8:00 a.m. until dusk or 7:00 p.m., whichever is earlier.
• R.J. Mozeley, Project Manager with McGill Associates, presented an update on the county's water line project. He said the current project, which involves the installation of 71,090 linear feet of water lines on portions of 12 roads, is nearing 90 percent completion. He said the project is running slightly behind schedule due to adding repairs in the Wittenburg Springs subdivision to the beginning of the project.
In April, commissioners approved an additional water line extension project which involves the installation of 12,250 linear feet of water lines on unserved portions of 10 roads, which will begin when the current project is complete.
The two water line projects could provide water service to approximately 350 homes and farms.
To assist residents who live in these areas, tap fees have been reduced to $541, for a savings of $602 per tap. The fee reduction will expire on June 30, 2021. If you live in an area where water lines are being installed, contact the City of Hickory at (828) 323-7427.
• Leeanne Whisnant, Consolidated Human Services Director, presented a local COVID-19 update to the board. As of October 12, the county had a total of 596 confirmed cases, with 56 people currently in quarantine and three people in the hospital. She said there have been eight deaths associated with the virus. A total of 529 people have recovered.
Whisnant said there have been 37 new cases in October, which starts a downward trend in positive tests.
Whisnant said the health department has continued to work closely with Alexander County Schools to provide advice and assistance to help contain the spread of the virus since the school year began with in-person instruction. Whisnant said there has been a total of 17 students and 10 staff members who have tested positive for COVID-19, which she believes is an indication of having a good plan in place.
Whisnant said that flu season is here, and encourages citizens to get the flu vaccination soon. The health department is hosting a drive-thru flu shot clinic every Friday in October from 1:00 to 3:00 p.m. by appointment (call 828-632-9704). On Friday, October 9, approximately 50 people received the vaccination at the drive-thru clinic. Whisnant said health officials are starting to see more cases of stomach viruses, strep throat, and other illnesses.
Doug Gillispie, Director of Public Services, said that emergency services is still doing well in terms of personal protective equipment (PPE). They recently located a Hickory company that is producing gloves and medical gowns; however, costs have risen as demand continues. Gillispie said a few EMS employees have tested positive for COVID-19 and praised the part-time personnel for filling in for those in quarantine.
• Christina Newhouse, Firewise Project Manager for Carolina Land & Lakes Resource Conservation and Development, provided a report on the Firewise program which is administered by the National Fire Protection Association (NFPA). Newhouse said the program is designed to reduce wildfire risk and structure loss in communities all across the country. She encourages communities to become official Firewise sites. Learn more at www.nfpa.org.
Newhouse also mentioned the Western North Carolina EnergyCAP program, which provides energy cost-share assistance to businesses and farms. For more information, visit www.energycap.org.
Alexander County Forest Ranger David Huffman was also in attendance to discuss wildfires in Alexander County. He said there have been 11 fires this year, which is fairly low due to a wet spring. The average local wildfire covers about 0.25 acres. Huffman said he appreciates the quick response by local volunteer fire departments.
• Lorie Street presented information about the Western Piedmont Sister Cities program, which unites Alexander and Catawba counties with Altenburger Land, a county in the former East German Federal State of Thuringia. Commissioners reappointed Street to serve as a representative for Alexander County.
• Commissioners approved eight budget ordinance amendments as presented by County Manager Rick French.
• Commissioners approved three road names, including Beau Drive, Patriot Drive, and Rey Richey Lane.
• In the County Manager's Report, Rick French reported that the county did not receive the PARTF (Parks and Recreation Trust Fund) grant for the Alexander County Courthouse Park. He plans to have information prepared for discussion at the November 2nd meeting.
The Alexander County Board of Commissioners typically meets on the first Monday of each month at 6:00 p.m. in room #103 at the CVCC Alexander Center for Education. The next meeting is set for Monday, November 2 at 6:00 p.m. Regular meetings are recorded and can be viewed on the county's Government Channel on Spectrum channel 192 or on the county's YouTube channel at www.youtube.com/alexandercountync. Meeting agendas, minutes, videos, and more are available on the county's website at www.alexandercountync.gov/commissioners.