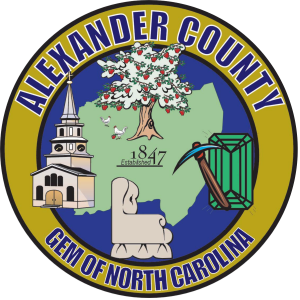 ALEXANDER COUNTY, NC (November 4, 2020) – Residents and visitors in Alexander County will be able to enjoy additional amenities at Courthouse Park and at Wittenburg Access Area. Michael Norris, Director of Land Planning & Recreation for McGill Associates, presented updates on the two projects at the November 2nd meeting of the Alexander County Board of Commissioners.
Alexander County applied for a state PARTF (Parks and Recreation Trust Fund) grant to help fund the improvements at Courthouse Park; however, the grant application wasn't approved. Because the county didn't receive the grant, Courthouse Park will be improved in two phases.
Norris said that phase one will consist of site development, a performance stage, and pedestrian connectivity (sidewalks). He said the stage will be the focal point of the park. The depot building on the corner of the lot will be renovated for restrooms. While a definite timeline hasn't been established, the county hopes work can begin by spring 2021.
Phase two would include a splash pad, playground, picnic shelter, game courts, and trellis swings. However, funding for phase two is uncertain. Commissioners have the option of reapplying to PARTF in 2021 for up to 50 percent of the phase two funding, or they could choose to fund the final improvements with local funds.
For the Wittenburg Access Area, the county signed a 40-year lease with Duke Energy which includes plans for numerous additions to the park. Duke Energy plans to add a public swim beach, restrooms, picnic shelter, and more parking spaces. Alexander County plans to add a walking trail with a parking area, benches, and picnic shelter.
At Monday night's meeting, commissioners approved a budget ordinance amendment in the amount of $611,759 which will be added with $175,000 that is already in the 2020-2021 budget for park construction and renovations, for a total of $786,759. These county funds will be dedicated for phase one of Courthouse Park and for the county portion of the Wittenburg Access improvements.
• Commissioners voted unanimously to proceed with a Request for Proposals (RFP) for the 2020 Alexander County Wireless Broadband Expansion Program.
County Manager Rick French presented information about the broadband project. He said the county will offer a $200,000 grant to an Internet Service Provider (ISP) to extend broadband internet service to residential and business customers in unserved and underserved areas of the county. The selected ISP will be required to provide a financial match of $200,000 or greater for the project.
French said that proposals are due by December 14 at 4:00 p.m. The county expects to sign a contract with the selected ISP by January 11, 2021. The project design would be complete by April 5, 2021, with project construction complete by October 3, 2022.
Commission Chairman Ryan Mayberry said, "This is an important step in providing much-needed internet service to our citizens and businesses, and we need to keep doing more of this."
• Doug Gillispie, Director of Public Services, presented an update on the impact of Tropical Storm Zeta on October 29 in Alexander County. The storm downed a lot of trees and power lines which blocked numerous roads and caused power outages across the county.
Gillispie praised the hard work of the volunteer fire departments, sheriff's office, police department, EMS, 911 communications, DSS, rescue squad, CERT volunteers, NC Forestry Service, county maintenance staff, county building inspections, and others for their assistance throughout the hectic day.
He reported that 911 communications received and assigned a total of 427 emergency and non-emergency calls that day. In order to be eligible for FEMA funding, a state of emergency was declared at 10:05 a.m. At the end of the day, there were more than 10,000 power outages in the county. As of 5:00 p.m. on November 2, there was a total of 50 power outages.
An emergency shelter was opened around midday at the Ellendale Volunteer Fire Department which served five people. Emergency personnel also provided oxygen to 10 people over a three-day period for those without power. Gillispie said there were several automobile wrecks, but no major injuries were reported.
Approximately 25 homes experienced storm damage, and commissioners agreed to waive inspection fees from the Building Inspections Department as those homes get repaired.
• Dan Shabeldeen of Shabeldeen Engineering reported on the Bethlehem sewer project. He said the project is going well, with 50 percent of the construction complete at the 60 percent mark of the timeline. Shabeldeen indicated that the most difficult portions of the project have been completed which will help the remaining work to proceed more quickly.
Some of the major work completed recently includes boring under Hwy. 127 and Chigger Ridge Road, boring under Hwy. 127 at Rink Dam Road, and boring under Hwy. 127 at Mt. Pisgah Church.
Shabeldeen said the crews should be finished with the gravity lines in the next month, and will then install the force main which he believes will proceed fairly quickly, allowing the project to be complete by the contract date of April 2021.
• Leeanne Whisnant, Consolidated Human Services Director, presented a local COVID-19 update. She reported that 154 people are in quarantine with COVID-19, with a cumulative total of 973 confirmed cases. Whisnant said the number in quarantine includes 58 inmates at the Alexander Correctional Institution. Twenty-three (23) people are in the hospital. There have been 10 deaths associated with the virus. Of the 973 total cases, 786 people have recovered.
Whisnant said, "There has been a tremendous increase in the last few weeks."
She attributed much of the increase to clusters (five or more cases) at the prison, churches, a private school, and a funeral. The day with the most number of positive cases reported was October 14 with 25 cases. She said there were three other days with 24 cases each.
The health department continues to do drive-thru testing on Mondays, Wednesdays, and Fridays. To schedule an appointment, call (828) 632-9704. Whisnant said they are also doing flu shots, and encourages the public to get vaccinated to help them avoid getting sick.
Whisnant encourages the public to continue to practice the 3 W's: wear a mask, wait six feet apart, and wash your hands.
Doug Gillispie, Director of Public Services, said the county has a good stock of personal protective equipment (PPE) supplies. With adequate supplies and additional education, Gillispie said that first responders have started responding to more emergency calls since being restricted back in April for safety purposes.
• Commissioners shared fond memories of former commissioner Darrell Robertson, who passed away on November 1. Chairman Mayberry said that Alexander County lost a great person with his passing.
"I served many years with Darrell on this board. He taught me a lot of things," Mayberry said. "Alexander County owes him a debt of gratitude."
Vice-Chairman Larry Yoder said, "Darrell worked with Democrats and Republicans – it didn't matter. He was an outstanding citizen of this county. He served well with honor, dignity, and honesty."
• Chairman Ryan Mayberry, who did not seek reelection this year, reflected on his 12 years of service as a commissioner.
"It's been a lot of hard work and there's been a lot of joy. I've thoroughly enjoyed most of it," he said with a smile. "I've learned a lot over the past 12 years. It's been an honor to serve with fellow commissioners and to work with county staff."
• Vice-Chairman Larry Yoder reported that he attended a Western Piedmont Council of Governments Transportation Advisory Committee meeting at which he was informed that the North Carolina Department of Transportation will begin repairs on Liledoun Road the week of November 2. He said the road is expected to be open by the end of 2020 or in January 2021.
• Commissioners approved a Public Transportation Program Resolution, which authorizes the Department of Social Services to apply for the Federal Section 5310 Grant, also known as the Enhances Mobility for Seniors & Individuals with Disabilities Program.
The program aims to improve mobility for seniors and individuals with disabilities by removing barriers to transportation service and expanding transportation mobility options.
Leeanne Whisnant said the grant would total $194,592, which includes $155,673 in federal funds, $19,459 in state funds, and $19,460 in county funds. If awarded, DSS plans to continue its partnership with Greenway Public Transportation to provide transportation for doctor's visits, grocery shopping, nutrition sites, and more.
• Scott Hines, Register of Deeds, presented information on the role of the register of deeds office and the need for job classification upgrades in the department. Average monthly transactions since June 2020 are 525, which is an 18 percent increase over the monthly average of 444 transactions. First-quarter revenue totals $133,081, which is a 38 percent increase compared to the first quarter of the last fiscal year.
Hines said that register of deeds' appointed staff are public officers, which distinguishes them from other county staff, and he believes they are underpaid with the amount of responsibility they bear. He asked the board to consider upgrading each position to be on par with other county employees.
• Commissioners approved a resolution naming December as "Christmas in Bethlehem," with the Bethlehem Star Lighting on December 5 and a live nativity drive-thru on December 11-13.
• Commissioners approved the 2021 meeting schedule. Meeting dates include January 4, February 1, March 1, April 12, April 26, May 10, May 24, June 7, June 21, July 19, August 2, September 13, October 4, November 1, and December 6. Meetings will be held at 6:00 p.m. at the CVCC Alexander Center for Education, located at 345 Industrial Boulevard in Taylorsville.
• Commissioners approved the Alexander County Government holiday schedule. Holidays will be observed on January 1 (New Year's Day), January 18 (Martin Luther King, Jr.'s birthday), April 2 (Good Friday), May 31 (Memorial Day), July 5 (Independence Day), September 6 (Labor Day), November 11 (Veterans Day), November 25-26 (Thanksgiving), December 22-24 (Christmas), and December 31 (New Year's Day).
• Commissioners approved a resolution naming the week of January 24-30, 2021 as Alexander County School Choice Week.
• Vice-Chairman Larry Yoder was appointed to a two-year term on the Western Piedmont Sister Cities Association.
• A Consolidated Human Services Board meeting followed the regular board meeting. Leeanne Whisnant, Consolidated Human Services Director, presented information on the DSS Adult Services' Nutrition Program which provides meals at congregate sites as well as home delivery. She said the caseload has increased from approximately 60 clients to about 100 clients due to the COVID-19 pandemic. The program received some CARES Act funding, which was quickly depleted. Currently, there are 25 people on the waiting list for the nutrition program. Commissioners approved a budget amendment at their regular meeting to allocate additional funding for the nutrition program. Whisnant said she is also reaching out to the Western Piedmont Council of Governments to determine if there are any grants available.
The Alexander County Board of Commissioners typically meets on the first Monday of each month at 6:00 p.m. in room #103 at the CVCC Alexander Center for Education. The next meeting is set for Monday, December 7 at 6:00 p.m. Regular meetings are recorded, and can be viewed on the county's Government Channel on Spectrum channel 192 or on the county's YouTube channel at www.youtube.com/alexandercountync. Meeting agendas, minutes, videos, and more are available on the county's website at www.alexandercountync.gov/commissioners.