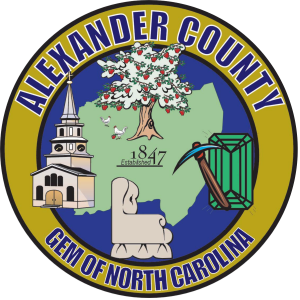 ALEXANDER COUNTY (April 14, 2021) – The Alexander County Board of Commissioners held a public hearing at their meeting on April 12 on a resolution requesting partisan filing for the Alexander County Board of Education. After much public input and discussion, the board voted 3-2 in opposition of the resolution with Commissioners Larry Yoder, Jeff Peal, and Marty Pennell opposed and Commissioners Ronnie Reese and Josh Lail in favor.
Nine citizens expressed their opposition and three citizens spoke in favor of the resolution and NC House Bill 515, which was introduced by NC Representative Jeffrey Elmore just prior to the filing deadline of April 8. The bill was on hold until the commissioners voted on the issue; therefore, without county support, HB 515 will no longer include Alexander County.
One of the speakers was Jack Simms, who is Chairman of the Alexander County Republican Party. Simms said there were numerous people who visited the Republican headquarters asking for information about Alexander County Board of Education candidates during the 2020 election and he had no information to share because it was a nonpartisan race. He said the local GOP Executive Committee met to discuss the issue and voted 10-1 in favor of changing the Board of Education election to partisan, which led to a request to add the resolution to the April 12 agenda of the Board of Commissioners.
"The county commissioners didn't initiate this," Simms stated.
Commissioners who voted against the resolution said they understood the concerns of those who spoke during the public hearing. They also expressed concern about the almost 8,000 unaffiliated voters in the county who would have to get 4 percent of their district to sign a petition to be able to run for a seat on the Board of Education. They also expressed concerns about the lack of candidates for school board seats, noting that making it partisan could make it even more difficult.
"I've talked to a lot of people who used to be commissioners in this county and all are from the Republican party, and not one of them thought this was a good idea. I was really surprised that making this a partisan issue brought up this much discussion," said Larry Yoder, Chairman of the Alexander County Board of Commissioners. "I really feel like nonpartisan is the way to go."
Commissioners Reese and Lail said most everyone they spoke to were in favor of making the Board of Education race partisan, as adding political affiliation helps inform the voters about the candidates.