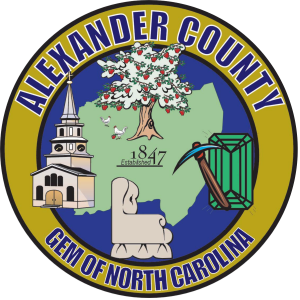 ALEXANDER COUNTY, NC (June 17, 2020) – The Bethlehem sewer project is well underway. The Alexander County Board of Commissioners heard a report from project engineer Dan Shabeldeen during a Zoom meeting on Monday, June 15 at 6:00 p.m.
Shabeldeen, who noted that this project will have a positive impact on Bethlehem and Alexander County, said the project is going relatively well considering its complexity. Contractor for the project is Two Brothers Utilities, Inc., which is currently utilizing two crews, with one on Wildlife Access Road and one on Heritage Farm Road.
The engineer said there have been several issues which he wanted to report to the board, including a sewage spill on May 14. Work was being completed on a pump station at the Wittenburg Access Area. At the day's end, work wasn't complete on the pump station, and it is believed an act of vandalism occurred resulting in the spill. Shabeldeen said the incident was reported to the state by the City of Hickory, but they haven't yet heard back from the state regarding a possible fine.
In addition, the contractor was supposed to core a manhole near the access area, but the interior walls had been corroding over the years since its installation in the late 1980s or early 1990s. Shabeldeen said the manhole had to be replaced at a cost of $31,308.
Also, the bore under NC Hwy. 127 to Chigger Ridge Road will be about 30 feet longer than expected, resulting in additional cost. There is also an easement issue on Chigger Ridge Road which will cause sewer lines to be moved and a manhole added. He said the original plans called for an open cut of Chigger Ridge Road, but the DOT recently resurfaced the road and will not allow the road to be cut, resulting in the crew having to bore under the road at an additional cost. Last week, two natural gas service connections were cut on Wildlife Access Road due to incorrect location services.
Shabeldeen said currently there are $256,000 in additional costs, but there are some deductions for items that won't be necessary, for a current increase of approximately $95,000.
Shabeldeen said detours will be used in the next couple of weeks on Wildlife Access Road and Shiloh Church Road as the roads are being cut to allow the installation of sewer lines in those areas.
Commissioner Jeff Peal said he is concerned with the multiple problems that have occurred with the project so far. Shabeldeen said they are approximately 20 percent complete, and are currently contending with the most difficult parts of the project, and anticipates less problems for the remainder of the project.
The project is expected to be complete in June 2021.
In other business:
• Leeanne Whisnant, Consolidated Human Services Director, presented an update on COVID-19 in Alexander County. She said the county has 51 cumulative confirmed cases, with eight people under quarantine and two in the hospital. She said the state has been experiencing an increase in new cases and hospitalizations.
"Our county has done really well, but we need to continue doing the right things because it makes a huge difference. Don't let your guard down yet because we've done too well not to continue our diligent efforts," Whisnant stated. "Citizens need to wear a cloth face covering when in public, wait six feet apart, and wash their hands frequently to help us prevent the spread of the virus."
Whisnant said the health department has a good supply of test kits, but continues to order additional kits as they are conducting drive-thru testing events once per day to conserve their limited amount of personal protective equipment (PPE). Those who need to be tested should contact the health department to make an appointment to participate in the drive-thru.
While the health department has conducted only one antibody test, Whisnant said some doctors' offices are conducting the tests, but most results have been negative.
"It will be very interesting to see the outcomes of these antibody tests going forward," she said. "Before we do many of these tests, we want to be sure the tests are accurate."
Whisnant said there have been a couple of cases in front-line county employees, but contact tracing and subsequent test results were negative. She said the county is doing a good job of cleaning buildings, wearing masks, and taking precautionary measures.
Commission Chairman Ryan Mayberry asked her opinion about public school resuming this fall. Whisnant said the state has three scenarios from which to choose as the beginning of the 2020-2021 school year approaches: Plan A – Minimal Social Distancing, Plan B – Moderate Social Distancing, or Plan C – Remote Learning Only.
Doug Gillispie, Director of Public Services, said that Alexander County Emergency Management is doing well regarding supplies of PPE. They recently received "PPE Push Packs," which were delivered to long-term facilities in early June.
County Manager Rick French said he plans to open the county's administration building and services center this week to begin a reopening process of county facilities to better serve the public.
• Fire Marshal Mark Earle reported that seven volunteer fire departments received grants from the Office of the State Fire Marshal totaling $84,722.15. These grants will help the departments purchase firefighting equipment, personal protective equipment, rescue equipment, radios for communications, and other types of equipment.
"They work hard and are dedicated to providing services to their communities," Earle said.
Chairman Mayberry agreed, "They work all day, and take time away from their families to keep us safe. We appreciate all they do."
• Commissioner Jeff Peal and County Manager Rick French recently met with town officials and local ministers to constructively look at some issues facing the community, especially the need to diminish racism.
• Commissioners approved an agreement for the county to provide property tax services for the Town of Taylorsville beginning July 1, 2020 and ending June 30, 2024. The town will pay a three percent fee for the services.
• Commissioners approved an agreement for the county to provide general planning and zoning services for the Town of Taylorsville beginning July 1, 2020 and ending June 30, 2021, with the possibility of extending the agreement. The town will pay $16,000 a year.
• Commissioners approved a Grant Project Budget Ordinance for the Coronavirus Relief Fund with anticipated revenues of $860,089. The money will be used for medical expenses, public health expenses, payroll expenses, COVID-19 public health compliance, and grants to municipalities.
• In the County Manager's Report, Rick French said the first meeting for the Stony Point Elementary School sewer project will be held on June 23. He also reported that the City of Hickory raised water rates by three percent for 2020-2021.
The Alexander County Board of Commissioners typically meets on the first Monday of each month at 6:00 p.m. in room #103 at the CVCC Alexander Center for Education; however, the next meeting is set for Monday, July 20 at 6:00 p.m. via Zoom. Regular meetings are recorded, and can be viewed on the county's Government Channel on Spectrum channel 192 or on the county's YouTube channel at www.youtube.com/alexandercountync. Meeting agendas, minutes, videos, and more are available on the county's website at www.alexandercountync.gov/commissioners.