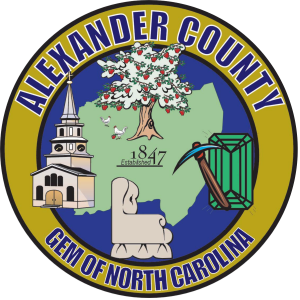 ALEXANDER COUNTY, NC (April 8, 2020) – The Alexander County Board of Commissioners met online via Zoom for their regular meeting on April 6. The board met online to be in compliance with the mass gatherings restriction due to the COVID-19 coronavirus, which was the main topic of discussion during the meeting.
Leeanne Whisnant, Director of Consolidated Human Services, informed commissioners that Alexander County still has only two (2) confirmed cases of COVID-19, with several households in quarantine and approximately 20 people who are self-isolating due to having symptoms of the virus.
"Our community is taking this virus very seriously, and we're very proud of them for adhering to the governor's 'stay at home' executive order," Whisnant said.
Ryan Mayberry, Chairman of the Board of Commissioners, said that he is also proud of citizens for staying at home and only making essential trips.
"Our numbers could be much higher than two confirmed cases, and in all likelihood there are probably about 10 times as many who have the virus," Mayberry said. "Our citizens have been doing a great job of maintaining social distance, staying home as much as possible, and washing their hands. We must continue these safety measures to keep our community healthy and safe."
Doug Gillispie, Director of Public Services, said his office has been working diligently to ensure the safety of front-line employees, such as EMS and law enforcement. EMS employees are currently being screened for symptoms prior to entering the base. Gillispie said emergency services staff have been fit-testing the front-line employees for N95 masks.
"Overall, Alexander County is in pretty good shape in terms of having adequate equipment," Gillispie stated. "Hopefully we have what we need, but we're just not sure when the peak of the virus will be."
County Manager Rick French reported that numerous county departments/facilities are closed, including parks and recreation, senior center, license plate agency, and all three branches of the library. EMS and Sheriff's Office are continuing to serve the public on a normal basis. Other departments/facilities are operating with essential staff only. Most buildings are locked to ensure the safety of employees. The public should call or email the necessary department or specific employee to arrange an appointment. The landfill and convenience sites remain open on a regular schedule. All parks are closed.
Several commissioners said they had been contacted about the reason for closing Rocky Face Mountain Recreational Area since it is a large, open area. French said that the governor's restrictions would only allow 10 people at a time in the park, which would be difficult to control. In addition, those who hike at the park typically hike in groups and enjoy fellowship, which would make it difficult to maintain social distance. Also, many people who hike at Rocky Face Park come from outside Alexander County, where more cases of the coronavirus are confirmed.
French informed commissioners that several members of county staff have been meeting on a regular basis to stay abreast of the COVID-19 pandemic and to determine ways to contain and mitigate the virus in Alexander County. He said that press releases, information on the county website, and utilization of the Code Red messaging system have been very helpful in keeping the public informed.
Mayberry said, "Our staff has done a superb job. The public sees very little of the hard work that occurs behind the scenes. The results speak for themselves."
In other business:
• Commissioners approved a resolution in support of the North Carolina State Consumer and Family Advisory Committee (CFAC). This committee advises the North Carolina Department of Health and Human Services (NCDHHS) and the General Assembly on the planning and management of the Division of Mental Health, Developmental Disabilities, and Substance Abuse Services.
• In the County Manager's Report, French said the water line rehabilitation project is complete in the Wittenburg Springs subdivision. The contractor, Buckeye Bridge, is now working on the water line extension project on numerous roads. French proposed additional roads that could be served upon completion of the current project, so commissioners asked for the engineer to make a presentation at the April 20 meeting. It was noted that all money spent on water line extensions comes from water revenues.
French reported that the Bethlehem sewer project is scheduled to begin May 4, and that bids were to be opened on April 7 for the Stony Point Elementary School sewer project.
He also reported that the spring recreation season has not yet been canceled, but if cancellation occurs, citizens will receive a refund of registration fees as soon as possible. Since RockyFest has been canceled, registered vendors will receive a refund.
The Alexander County Board of Commissioners typically meets on the first Monday of each month at 6:00 p.m. in room #103 at the CVCC Alexander Center for Education. The next meeting is Monday, April 20, which will also be conducted online via Zoom, with live audio on WACB 860 AM and www.860wacb.com. Meetings are recorded, and can be viewed on the county's Government Channel on Spectrum channel 192 or on the county's YouTube channel at www.youtube.com/alexandercountync. Meeting agendas, minutes, videos, and more are available on the county's website at www.alexandercountync.gov/commissioners.