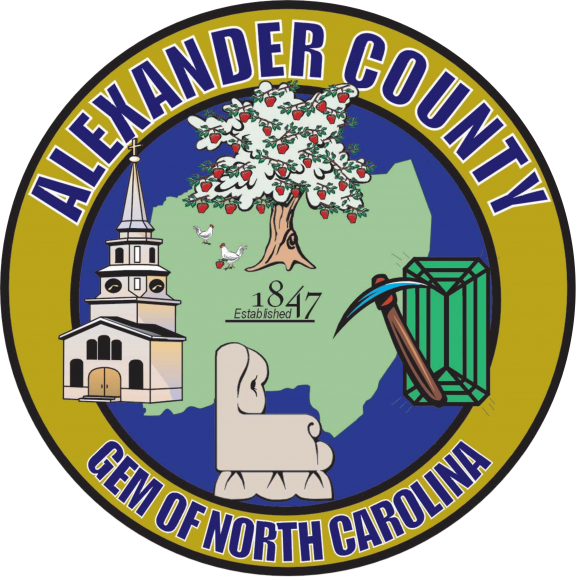 ALEXANDER COUNTY, NC (September 25, 2019) – The Alexander County Board of Commissioners held a work session on Monday, September 23rd to discuss several items which will be on the agenda of the October 7th regular meeting.
Russell Greene, Director of Public Safety, presented a draft of the Alexander County Special Events Ordinance to the board. Greene said the ordinance will greatly assist local public service agencies in preparing for special events. The ordinance would require that a special events application be submitted at least 90 days prior to the event. Greene said the draft ordinance doesn't include a fee schedule, but the board could establish fees to help recoup staff, agency, and volunteer hours. Greene emphasized that the ordinance does not apply to local, state, federal, or school events. In addition, the ordinance requires those applying for a permit to name Alexander County as additional insured, which removes the county from potential liability if anyone should get injured on county property. A public hearing will be held at the October 7th meeting to gather public input regarding the draft ordinance.
County Manager Rick French presented an update on the county's water line extension project, which could serve 295 homes on portions of 12 roads. Buckeye Bridge LLC was awarded the contract in July with the low bid of $4,699,248, plus $117,481 in contingency funding. French said the county has also contracted with Buckeye Bridge in the amount of $232,863 to replace water lines in the Wittenburg Springs subdivision, which has experienced numerous water main breaks and leaks over the years. Once construction is underway, the Wittenburg Springs project will be completed in seven weeks, and then the water line extension project will begin, with a construction period of 300 days.
County Manager French presented an update on the roof project at the new Alexander County Services Center. Conover Construction & Roofing will complete the roof repairs at a cost of $94,720.
In the County Manager's report, French said the board will receive an update on the Bethlehem sewer project at the October 7th meeting from engineer Dan Shabeldeen. French indicated that a $907,000 budget amendment will need to be approved, bringing the project total to approximately $6.2 million.
The next regular meeting of the Alexander County Board of Commissioners is scheduled for Monday, October 7th at 6:00 p.m. at the CVCC Alexander Center for Education (room #103), located at 345 Industrial Boulevard in Taylorsville.
Meetings of the Alexander County Board of Commissioners are recorded and available for viewing on the county's YouTube channel at www.youtube.com/alexandercountync. The meetings may also be viewed on the Alexander County Government Channel on Spectrum channel 192.