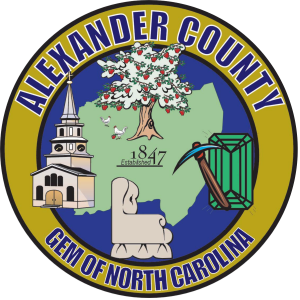 ALEXANDER COUNTY, NC (May 20, 2020) – The Alexander County Board of Commissioners held a public hearing on the proposed 2020-2021 county budget during an online meeting via Zoom on Monday, May 18 at 6:00 p.m. County Manager Rick French presented the proposed 2020-2021 budget at the board's regular meeting on May 4, and commissioners held a budget work session on May 11.
The proposed General Fund budget for fiscal year 2020-2021 totals $42,892,442. The original budget for 2019-2020 totaled $41,983,958 and currently stands at $43,697,216.
County Manager French said they had not received any public comments or phone calls regarding the public hearing on the budget.
The county manager said the proposed budget includes no property tax increase, no tax increases in fire districts, and no fee increases for building inspections, zoning, or fire inspections. There are no new part-time or full-time employees in the proposed budget. The City of Hickory is proposing a 3.75 percent increase in water rates, effective July 1, 2020, subject to approval by the Hickory City Council.
Approval of the 2020-2021 budget is tentatively planned for Monday, June 1.
In other business:
• Commissioners received a COVID-19 update from Leeanne Whisnant, Director of Consolidated Human Services, and Doug Gillispie, Director of Public Services.
Whisnant said the health department received notification of seven new confirmed cases of COVID-19 on May 18, for a total of 12 active cases and a cumulative total of 22 confirmed cases. Of the 12 active cases, eight are associated with the outbreak at Tyson Foods in Wilkes County. One of the active cases is currently hospitalized. Ten cases have fully recovered. Whisnant said the department is partnering with a new lab to help a local industry purchase test kits for more than 300 employees. Health department staff will be administering the tests on May 20. She said the department is also working to acquire antibody tests in the next week or two, which will show if a person has had COVID-19 or not. Whisnant said that some supplies are coming in, but they continue to work diligently to secure additional supplies for Alexander County. She said that approximately seven percent of those tested in North Carolina have positive results.
Gillispie said that Alexander County EMS has recently seen a slight increase in call volume. He said that emergency management has been working with local long-term care facilities which are experiencing staff shortages. He said the state is providing RNs and CNAs to help fill the gaps. In addition, the county continues to experience a shortage of surgical masks and gowns for front-line workers.
French said that Rocky Face Park is open for hiking only. The park has had a lot of hikers recently. Current plans are to allow rock climbing to begin on May 22, along with extended hours from 8:00 a.m. to 8:00 p.m. French said that courtrooms will open on June 1 with additional cleaning being required.
Chairman Mayberry said the county needs to provide health and safety information to businesses and restaurants. Whisnant said the Centers for Disease Control and Prevention has some good business resources, and she will provide that information to the business community.
• Commissioners approved a resolution adopting the Alexander County Parks Plan, the Site-Specific Master Plan for Dusty Ridge Park, and Recreation Capital Improvements Plan. The county partnered with the Western Piedmont Council of Governments to create a Comprehensive Parks and Recreation Plan designed to reflect the needs and desires of the county and its citizens as related to future parks planning within the county. Public input was gathered from over 1,400 parks survey respondents and public meeting participants.
• Commissioners approved a resolution authorizing a 2019-2020 NC Parks and Recreation Trust Fund Grant application for development of the Alexander County Courthouse Park.
David Icenhour, Executive Director of the Alexander County Economic Development Corporation, presented the Courthouse Park Master Plan at the board's May 4th meeting. Commissioners approved the master plan at that meeting. Following that approval, Icenhour said the plan was shared on the county's Facebook page, with the post reaching 5,227 people with 131 comments. The plan includes a performance stage, splash pad, playground, picnic shelter, and other amenities.
"One of the most exciting parts of the master plan is the performance stage. I would like to publicly thank and commend the Taylorsville Rotary Club for their support and fundraising to help us make the stage and this park a reality," said County Manager Rick French. "We understand that further development of Courthouse Park has significantly delayed the Rotary Club's construction of the stage, and we apologize for the delay, but we believe the park will have something for everyone to enjoy once it's completed."
The PARTF grant application is for $400,000, which would be matched by county funds in the amount of $433,037.
• Commissioners approved a resolution requesting the North Carolina General Assembly to take an active role in keeping the voting process safe from voter fraud. The NC Board of Elections has stated it will ask the General Assembly to legislate a new law making absentee voting less restrictive, which could result in absentee voting being less secure from voter fraud.
• Commissioners approved a resolution requesting the North Carolina General Assembly to enact legislation to limit the powers of the NC Governor from acting unilaterally for an extended period of time. The resolution states that during the COVID-19 pandemic, and while the General Assembly was out of session, Governor Cooper acted unilaterally without the consent of North Carolina's Council of State to close public schools and many businesses while limiting, and in some cases, eliminating citizens' United States Constitutional rights to assemble. The resolution also states that the Governor has acted unilaterally by misapplying the Emergency Powers Act. With the resolution, commissioners are requesting that the General Assembly begin the process of developing general statutes to better define the Emergency Powers Act and initiate the process to stop future NC Governors from acting unilaterally and unchecked for extended periods of time.
• Commissioners sent another letter to Governor Roy Cooper regarding the need for immediate funding and repair of Liledoun Road, which remains closed nearly a year after flooding in June 2019. Commission Chairman Ryan Mayberry said the board is doing everything it can to get the DOT to repair the road; however, there is much concern about lack of state funding again this year with DOT budget shortfalls, furloughs, and loss of revenues.
• Commissioners also participated in a meeting of the Alexander County Consolidated Human Services Board following their regular meeting. Whisnant informed the board that there have been two positive cases of rabies in cows this year.
Whisnant also noted that March was Social Work Month, April was Child Abuse Prevention Month and Public Health Month, and May is National Foster Care Month. Due to COVID-19, she said these observances haven't received the recognition they deserve.
She then introduced Linda Clements, who is the new Assistant DSS Director for Alexander County. Clements has 15 years of social services experience at the state and local levels.
Since May is National Foster Care Month, Clements provided a foster care update to the board. Alexander County currently has 46 children in foster care, which includes 24 females and 22 males. Twenty-five children left the foster care program in 2019. Clements said there is always a need for foster parents.
Whisnant then gave a brief update on the Alexander Senior Center. The center remains closed temporarily due to the COVID-19 pandemic to protect the high-risk population. She said the center will remain closed during the state's phase two of reopening, and possibly even through phase three. She said that staff is calling local senior citizens to check on them. Senior center staff is also assisting at DSS.
View the May 18th meeting on YouTube.
The Alexander County Board of Commissioners typically meets on the first Monday of each month at 6:00 p.m. in room #103 at the CVCC Alexander Center for Education. Regular meetings are recorded, and can be viewed on the county's Government Channel on Spectrum channel 192 or on the county's YouTube channel at www.youtube.com/alexandercountync. Meeting agendas, minutes, videos, and more are available on the county's website at www.alexandercountync.gov/commissioners.