The Alexander County Board of Commissioners held a public hearing at their May 14th meeting to consider the proposed 2018-2019 budget for Alexander County. County Manager Rick French presented his budget message to the board.
The proposed General Fund budget for fiscal year 2018-2019 totals $41,200,000. The budget has no property tax increase or change in local fees. The revised budget for 2017-2018 totals $42,593,784 to date.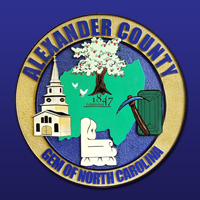 Ronnie Reese, Chairman of the Alexander County Board of Commissioners, said the budget process is difficult, but he believes the proposed budget is a good one.
"We met with a lot of departments and tried to come up with a budget that works for everyone," Reese stated. "We have a lot of good things going on here in Alexander County."
French noted that property valuations in Alexander County have decreased $99,443,599 from $2,683,898,191 on June 30, 2014 to $2,584,454,592 on June 30, 2017.
French also reminded the board that the Office of Budget and Management has officially implemented its Uniform Administrative Requirements, Cost Principles, and Audit Requirements, which is commonly referred to as Uniform Guidance. Local governments that expend federal financial assistance must comply with these new requirements, for which he recommends one new employee. French also noted that the Secretary of the NC Department of Health and Human Services has mandated performance requirements and administrative responsibilities for county departments of social services, for which he recommends four new staff members.
French said that as of June 30, 2017, the unassigned fund balance was $10,205,052 (approximately 28 percent).
"County Commissioners should be commended for building a healthy fund balance," French stated. "Our strong fund balance enables Alexander County to apply for a number of low-interest loans and many grants. It also allows County Commissioners to finance up front the cost of many projects."
As examples, he mentioned the CVCC Alexander Applied Technologies Center, Community One Bank project, and the $10 million water and sewer projects that are scheduled in late 2019.
In the $41,200,000 proposed budget, the following items are included: $6,520,851 for Alexander County Schools, which is a $488,951 increase from the 2017-2018 fiscal year (requested amount was $7,009,801); $243,000 for four vehicles for the sheriff's office; $180,000 for two re-mounted ambulances for EMS; $193,400 for a 2.5 percent Cost of Living Adjustment (COLA) for county employees, effective January 2019; $90,000 for technology at DSS ($60,600 county funds); $60,000 for four contracted firefighter positions, effective January 2019; $55,000 for a vehicle replacement for detention; $50,000 for DSS contingency funds for Medicaid over-payments; $44,000 for two replacement vehicles for DSS ($29,500 county funds); four full-time deputies; four quality assurance staff members for DSS; two building inspectors; two 911 communications employees; one public information/EDC employee; one Uniform Guidance Compliance employee; one tax mapping/revaluation employee, which replaces a part-time position; and one park maintenance employee.
French also noted that a number of county projects are in progress. They include: completion of the Shurtape Technologies Job Retention Wastewater Project; completion of a sewer pump station at the Alexander Industrial Park; Community One Bank project, which will consolidate nine county departments into one location; $5 million water line project; $5 million sewer project in Bethlehem; Stony Point Elementary School sewer project, which will total $984,000 ($89,250 county funds); broadband project; and two Alexander County/Duke Energy recreation projects which are still under review (Wittenburg Access Area and Dusty Ridge Access Area).
French also noted that the City of Hickory is proposing a 2.1 percent increase in water rates for 2018-19, with water tap fees to increase to the outside rate in July 2018.
Adoption of the 2018-2019 budget ordinance is scheduled for June 4 at the regularly-scheduled meeting to begin at 6:00 p.m. in room 103 at the CVCC Alexander Center for Education.