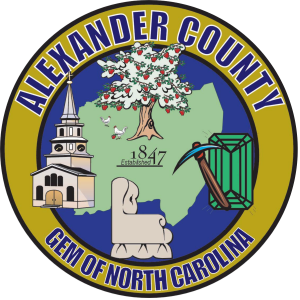 ALEXANDER COUNTY, NC (May 13, 2020) – The Alexander County Board of Commissioners held a budget work session online via Zoom on Monday, May 11 at 6:00 p.m. County Manager Rick French presented the proposed 2020-2021 budget at the board's regular meeting on May 4.
The proposed General Fund budget for fiscal year 2020-2021 totals $42,892,442. The original budget for 2019-2020 totaled $41,983,958 and currently stands at $43,697,216.
"This is about as flat a budget as we can do," French stated. "As we go into the next fiscal year we don't know what our sales tax will be, and we're not sure if the state and federal governments will help the county with COVID-19 expenses."
The county manager said the proposed budget includes no property tax increase, no tax increases in fire districts, and no fee increases for building inspections, zoning, or fire inspections. There are no new part-time or full-time employees in the proposed budget. The City of Hickory is proposing a 3.75 percent increase in water rates, effective July 1, 2020, subject to approval by the Hickory City Council.
French said projected revenues from sales taxes for the proposed 2020-2021 budget are $6,299,000, which are somewhat less than the current fiscal year due to the uncertainty of how COVID-19 will affect the local economy. The proposed budget utilizes $2,852,285 of the county's fund balance. Property tax revenues are estimated at $20,193,598. Revenues not included in the General Fund are water and sewer revenues estimated at $3,068,900 and solid waste revenues estimated at $1,796,000.
In terms of expenditures, French provided information about each county department. Alexander County Schools will receive $7,065,060 in 2020-2021, which is an increase of $265,060. Debt service payments will total $1,211,000. The proposed budget includes numerous capital outlay items, which will be set aside in contingency in departmental budgets until at least January 1, 2021 at which time the status of county revenues will be reviewed. Those items include: light poles at Bethlehem Park – $100,000, four vehicles for DSS – $90,000, ambulance box on a new chassis for EMS – $100,000, four vehicles/equipment for Sheriff's Office – $230,000, D.A.R.E. vehicle for Sheriff's Office – $57,500, vehicle for Emergency Services – $56,000, radio transmitter for 911 Communications – $25,000, Linney's Mountain Tower upgrade – $40,000, off-site disaster recovery node – $98,500, security cameras at two CVCC buildings – $20,000, and zero-turn mower for maintenance – $10,000.
Three substantial utility projects will be underway in the 2020-2021 fiscal year including a water line extension project, Bethlehem sewer project, and Stony Point Elementary School wastewater project.
A public hearing regarding the proposed budget is set for Monday, May 18 at 6:00 p.m. via Zoom. Approval of the 2020-2021 budget is tentatively planned for Monday, June 1.
The Alexander County Board of Commissioners typically meets on the first Monday of each month at 6:00 p.m. in room #103 at the CVCC Alexander Center for Education. Regular meetings are recorded, and can be viewed on the county's Government Channel on Spectrum channel 192 or on the county's YouTube channel at www.youtube.com/alexandercountync. Meeting agendas, minutes, videos, and more are available on the county's website at www.alexandercountync.gov/commissioners.