Jason Menendez, Operations Manager for the new Borealis Compounds plant in the Alexander Industrial Park, presented an update on the new industry at the August 6th meeting of the Alexander County Board of Commissioners.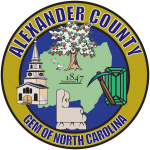 Menendez said that Borealis is one of the top five chemical companies in the world, with approximately 6,600 employees in more than 120 countries. The company headquarters is in Vienna, Austria. The Alexander County plant will produce plastic pellets that will be used by automobile manufacturers to make plastic components.
He said there is a lot of activity at the site, as equipment is now in place, electrical is being installed, offices are being finished, and more. Recent rain has delayed the grading to allow the installation of two rail spurs, but he believes everything is on track for a startup date of October 20.
Menendez said they will hold an open house and ribbon cutting on a date near the official opening.
"We are very, very excited to be here in Alexander County," Menendez said. "We are here to stay. My goal is be one of the largest employers in Alexander County."
The local plant is currently hiring production operators, maintenance mechanics, electricians, and lab technicians, with approximately 25 interviews to be done this week. The company has pledged at least 37 new jobs initially, but Menendez said they are already planning an expansion of the current facility.
"We are glad to have Borealis Compounds in Alexander County," said Ronnie Reese, Chairman of the Alexander County Board of Commissioners. "It's good to have diversity in our businesses and industries. We look forward to working with you for many years to come. Thank you for your investment in our community."
Funds approved for Sewer Line Extension and Pump Station Upgrade Project
Commissioners adopted a resolution to accept a State Bond Loan from the North Carolina Clean Water Revolving Loan and Grant program in the amount of $5,181,300. The project will include the installation of 1,900 linear feet of 15-inch, 6,350 linear feet of 12-inch, and 10,500 linear feet of 8-inch gravity sewer lines; 12,150 linear feet of 8-inch force main; the upgrade of two pump stations; and installation of a new pump station. Construction is expected to begin in the summer of 2019.
WPCOG contracted to help develop Bethlehem Community Plan
Commissioners approved an agreement between the Western Piedmont Council of Governments (WPCOG) and Alexander County to provide technical planning assistance for a "Bethlehem Community Plan" to be completed by September 30, 2019. Jon Pilkenton, Planning Director for Alexander County, said the plan would look at the future growth of the Bethlehem community, especially considering the NCDOT plans to make NC Hwy. 127 a four-lane road, upcoming sewer project, and proposed housing developments. He said a steering committee would be needed to provide some direction for the plan. In addition to the committee, he said there would be at least two public input meetings to give residents and businesses an opportunity to present thoughts and ideas. The contract with the WPCOG will not exceed $25,332.
Stony Point Elementary School Wastewater Project
Qualifications for engineering services for the Stony Point Elementary School Wastewater Project were to be opened on Tuesday, August 7 at 2:00 p.m. The project will be funded by a Community Development Block Grant (Infrastructure) in the amount of $894,750 with a county match of $89,250.
County sales tax revenue update
County Manager Rick French reported that the regular sales tax revenues for the county are up 3.79 percent from this same time last year with $4,139,408.82 collected. For the new sales tax designated for economic development, public education, and community colleges, revenues are 7.08 percent higher than at this time last year with $1,327,074.20 collected.
County Forest Ranger honored with "Key to the County"
Commissioners also presented a "Key to the County" to Dennis Wahlers, who is retiring from his post as County Ranger with the North Carolina Forest Service after 18 years of service.
Board of Commissioners meetings available on YouTube and Government Channel
Each meeting of the Alexander County Board of Commissioners is streamed live on WACB 860 AM, and recorded for the county's YouTube channel and the Government Channel (Spectrum Channel 192).