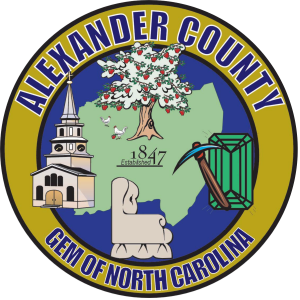 ALEXANDER COUNTY, NC (December 4, 2019) – The Alexander County Board of Commissioners received a favorable audit report for fiscal year 2019 from Erica Brown, Audit Partner for Martin Starnes & Associates CPAs, at the board's December 2nd meeting.
Commissioners were informed that the county audit received an "unmodified opinion," which means the CPA firm found no material misstatements that led them to believe the financial statements would be misleading to the reader.
Brown commended the Alexander County Finance Department staff for their professionalism and cooperation during the audit process.
She reported that the General Fund Revenues were comprised mainly of property taxes at 52 percent, local option sales tax at 24 percent, and restricted intergovernmental (federal and state grants) at 11 percent. Property tax revenues increased $242,970 (1.18 percent). Local option sales tax increased $753,880 (8.5 percent). The restricted intergovernmental revenues increased $102,549 (2.46 percent).
In terms of General Fund Expenditures, the three largest areas of spending include public safety (30 percent), human services (25 percent), education (18 percent), and general government (18 percent). Public safety expenditures increased $786,089 (7.8 percent). Human services expenditures increased $356,457 (4.1 percent). Education expenditures increased $488,407 (7.9 percent). General government expenditures increased $676,152 (11.6 percent)
General Fund debt balance as of June 30, 2019, totaled $5,479,097 with $812,430 (education) to be paid off in 2021 and $4,666,667 (public safety) to be paid off in 2026. Debt service payments for FY 2019 totaled $1,606,992.
Total fund balance increased $743,757, which brings the county's fund balance percentage to 31.7 percent of total General Fund expenditures and transfers, for a total available fund balance of $12,586,859. It was noted that the county's fund balance is comparable to counties in the population group of 25,000 to 50,000 residents.
The Solid Waste Fund showed a net income of $158,885. The Bethlehem Water Fund showed a net income of $565,286, while the remainder of the county's water and sewer funds had a net income of $316,484. The county water and sewer fund has an outstanding debt of $4,430,064 which will be paid off in 2035.
Commission Chairman Jeff Peal commented on the audit report and expressed appreciation to finance staff.
"We're pleased to have another clean audit and to experience an increase in our available fund balance. We have a lot of projects happening in Alexander County, and we're in good shape financially," Peal said. "I would also like to thank the staff of the finance department for their hard work during the annual audit process, but also for their efforts day-in and day-out as they help us be the best stewards of taxpayer money that we can be."
In other business:
• Commissioner Ryan Mayberry was elected as Chairman of the Alexander County Board of Commissioners, while Larry Yoder was elected as Vice Chairman.
• Commissioners approved the Alexander County Special Events Ordinance, application, and fee schedule. A public hearing was held in October and November to allow public input on the special events ordinance. The ordinance is designed to establish a structured process for permitting the staging of special events to ensure proper planning and adequate allocation of county resources during special events and to protect the health, welfare, and safety of the public attending such events. The ordinance does not apply to functions of governmental agencies, school-sponsored events on school-owned property, church activities on church-owned property, business events in venues designated for large numbers of people where a safety and emergency plan approved by the county is already in place, and events held on privately-owned residential property.
The fee for law enforcement for special events is $30 per hour per officer for a minimum of three hours each. The fee for volunteer firefighters is $12-14 per hour per firefighter for a minimum of three hours each. For EMS, the fee is $25 per paramedic per hour, as well $25 per hour for an emergency vehicle, for a minimum of three hours.
"Somebody has to pay for these services, so whoever hosts the event should take care of the fees," Peal said.
View and/or download the special events ordinance and application.
• Commissioners approved a proclamation declaring the month of December 2019 as "Christmas in Bethlehem." The public is invited to the annual Bethlehem Star Lighting on December 7 and the annual Christmas in Bethlehem Drive-Thru on December 15-17.
• Commissioners tabled a request from the Alexander County Board of Education to approve salary increases for school board members. Because the issue was added to the agenda just prior to the December 2nd meeting, some commissioners felt it best to add the item to the January 6, 2020 meeting agenda for consideration.
• Brenda Price and Lindsay Cox with the Alexander County Foster Parents Association presented information about the organization's annual Christmas drive. There are approximately 50 foster children in need of Christmas gifts this year. Donations can be mailed to P.O. Box 284, Taylorsville, NC 28681.
• Captain Phillip Starnes with the Alexander County Sheriff's Office presented information about the annual Santa Cops program, which began in 2009. The program helps provide Christmas gifts to the children of local incarcerated parents. Donation boxes are located at numerous county buildings and businesses, and the public is encouraged to participate. Once the donations are sorted and wrapped, officers deliver the presents to the children on Christmas Eve or Christmas Day. Santa Cops provides Christmas cheer to these children while creating an opportunity for a positive interaction with law enforcement. For more information or to make a donation, contact Captain Starnes at (828) 632-0304 or pstarnes@alexandercountync.gov.
The Alexander County Board of Commissioners typically meets on the first Monday of each month at 6:00 p.m. in room #103 at the CVCC Alexander Center for Education (345 Industrial Boulevard, Taylorsville). The next scheduled meeting is Monday, December 16 at 6:00 p.m. in the administration building. The next regular meeting is set for Monday, January 6 at 6:00 p.m. at CVCC. Meetings are recorded, and can be viewed on the county's Government Channel on Spectrum channel 192 or on the county's YouTube channel at www.youtube.com/alexandercountync. Meeting agendas, minutes, videos, and more are available on the county's website at www.alexandercountync.gov/commissioners.