Board also hears reports on proposed Special Events Ordinance, Christmas Parade, more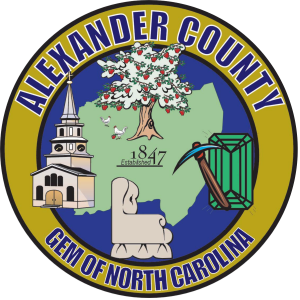 ALEXANDER COUNTY, NC (November 5, 2019) – At the November 4th meeting, the Alexander County Board of Commissioners held a public hearing to consider a Public Transportation Program Resolution, which authorizes the Department of Social Services to apply for the Federal Section 5310 Grant, also known as the Enhances Mobility for Seniors & Individuals with Disabilities Program.
The program aims to improve mobility for seniors and individuals with disabilities by removing barriers to transportation service and expanding transportation mobility options.
Patricia Baker, DSS Director, said the county would apply for $194,592 in grant funding, which includes a 10 percent county match of $19,459. If awarded, DSS plans to continue its partnership with Greenway Public Transportation to provide transportation for doctor's visits, grocery shopping, nutrition sites, and more.
Commissioners approved the resolution to proceed with the grant application.
For more information about the grant, visit www.transit.dot.gov/funding/grants/enhanced-mobility-seniors-individuals-disabilities-section-5310.
• A second public hearing was held to discuss the proposed Alexander County Special Events Ordinance, and to receive input from the public. County Manager Rick French presented information about the proposed ordinance.
He said the purpose of the special events ordinance is to establish a structured process for permitting the staging of special events to ensure proper planning and adequate allocation of county resources during special events and to protect the health, welfare, and safety of the public attending such events.
The ordinance does not apply to functions of governmental agencies, school-sponsored events on school-owned property, church activities on church-owned property, business events in venues designated for large numbers of people where a safety and emergency plan approved by the county is already in place, and events held on privately-owned residential property.
With the adoption of the proposed ordinance, commissioners are enabling county staff to implement a process for permitting special events in Alexander County.
Commission Chairman Jeff Peal said the special events ordinance is designed to ease the burden on the county's emergency services personnel, not to tell people what they can or cannot do on their own property.
After two public hearings, the proposed ordinance is tentatively scheduled for adoption at the December 2nd meeting.
View the proposed ordinance and application online at www.bitly.com/ac-special-events-ordinance.
• Lenny Rogers, Cooperative Extension Director, presented an update on the 73rd Annual Alexander County Christmas Parade. This year's parade is set for Saturday, December 7 at 3:00 p.m. Currently, there are 100 registered entries with 14 floats. Four floats remain, so Rogers encourages interested businesses and organizations to fill those slots. Four high school marching bands are confirmed. New this year is a performance by the East Alexander Middle School Band at 1:30 p.m. at the Alexander County Courthouse Park, followed by the lighting of a 20-foot Christmas tree by the Grand Marshal at 1:45 p.m. There will also be food trucks at the park. The Alexander County Christmas Parade is believed to be one of the largest parades in western North Carolina. For more details, visit www.alexandercountync.gov/parade.
• Commissioners scheduled a board meeting for Monday, December 16 at 6:00 p.m.
• Commissioners approved the 2020 meeting schedule. Meetings are set for January 6, February 3, March 9, April 6, April 20, May 4, May 18, June 1, June 15, July 20, August 3, September 14, September 21 (if needed), October 5, November 2, November 16 (if needed), and December 7. The Consolidated Human Services Board meets every month with the first 2020 meeting in January.
• Commissioners approved the 2020 holiday schedule. County offices will be closed for New Year's Day on January 1, Martin Luther King Jr.'s Birthday on January 20, Good Friday on April 10, Memorial Day on May 25, Independence Day on July 3, Labor Day on September 7, Veterans Day on November 11, Thanksgiving on November 26-27, and Christmas on December 23-25.
• Patricia Baker, DSS Director, noted that November is National Adoption Awareness Month. In 2019, DSS has assisted with seven adoptions and is expecting three more adoptions by the end of the year. Currently, there are 55 children in foster care in Alexander County. In North Carolina, there are more than 2,000 children available for adoption. If you are interested in adopting a child, contact Alexander County DSS at (828) 632-1080 or visit www.adoptuskids.org/states/nc/index.aspx.
• Baker presented information about two energy funds that benefit local residents in need. The Low Income Energy Assistance Program (LIEAP) is a one-time vendor payment to help eligible households pay heating bills. Those age 60 or older, or disabled individuals, should sign up for the program at DSS from December 1-31, while other households can sign up January 1 through March 31 while funds remain. Eligibility is income-based, with payments totaling $300, $400, or $500. For 2018-2019, LIEAP provided $127,000 to Alexander County residents. For more information about the LIEAP, visit www.ncdhhs.gov/assistance/low-income-services/low-income-energy-assistance.
Baker then presented information about the Crisis Intervention Program (CIP), which provides funding assistance to eligible residents who are experiencing a heating or cooling related crisis. A household is considered to be in crisis if it is experiencing or in danger of experiencing a life-threatening or health-related emergency and sufficient, timely and appropriate assistance is not available from any other source. CIP provides up to $600 per fiscal year to eligible persons. For 2018-2019, CIP provided $138,077 to Alexander County residents; however, it is estimated that Alexander County will only receive $117,086 for 2019-2020. For more information about the CIP, visit www.ncdhhs.gov/assistance/low-income-services/crisis-intervention-program.
• Billie Walker, Assistant Health Director, presented the Alexander County Health Department's Communicable Disease Annual Report. She defined communicable diseases as infectious diseases that can be transmitted from one person to another through various modes of contact. Walker said that certain diseases must be reported to the state and territorial jurisdictions when identified by a health provider, hospital, or laboratory.
In 2018-2019, she said that gastrointestinal diseases were the most frequent, which is not uncommon. There was one E.coli case of an unknown reason this past year, and there was one death related to Influenza in Alexander County.
Walker also presented data to show a four-year comparison (2013-2018) of communicable disease and sexually transmitted disease cases for Alexander County.
For more information about communicable diseases, visit https://epi.dph.ncdhhs.gov/cd/.
• Leeanne Whisnant, Consolidated Human Services Director, presented information about the NC Care 360 program, which is the first statewide coordinated care network. The first planning meeting was held in Alexander County on October 23. Currently, there are 21 counties in North Carolina that are utilizing the system, while 22 counties are in the process. Alexander County is scheduled to be on board in early 2020, with all 100 counties in North Carolina by the end of 2020. Learn more at www.nccare360.org.
Whisnant also presented an update on the health department's behavioral health clinic, which begins operations in January 2020. The department has hired a licensed clinical social worker who will assist clients with a variety of mental and behavioral health issues. Commissioners approved a fee schedule that totals the Medicaid rate plus 20 percent. Whisnant said they will not turn anyone away due to financial issues, as their goal is to provide much-needed services while covering costs.
The Alexander County Board of Commissioners typically meets on the first Monday of each month at 6:00 p.m. in room #103 at the CVCC Alexander Center for Education (345 Industrial Boulevard, Taylorsville). The next meeting is on Monday, December 2. Meetings are recorded and can be viewed on the county's Government Channel on Spectrum channel 192 or on the county's YouTube channel at www.youtube.com/alexandercountync. Meeting agendas, minutes, videos, and more are available on the county's website at www.alexandercountync.gov/commissioners.