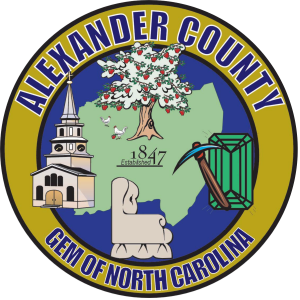 ALEXANDER COUNTY, NC (September 11, 2019) – The Bethlehem Community Plan was approved by the Alexander County Board of Commissioners at the September 9th meeting. The plan has recommendations in the areas of transportation, resources and services, natural and cultural resources, economic development and tourism, and land use and growth management.
Jon Pilkenton, Director of Planning and Development, said there was a real need to develop a plan for the future of Bethlehem with the upcoming widening of NC Hwy. 127, housing projects, and more. In July 2018, commissioners approved a contract with the Western Piedmont Council of Governments (WPCOG) to facilitate the monthly meetings and to provide technical assistance in drafting the plan.
The Bethlehem Community Plan Advisory Committee was then appointed to draft a plan that would provide a vision for the future development of the Bethlehem Community. Committee members include: Bud Caywood – chair, Andi Jack – vice-chair, Ryan Mayberry, Ashley Starnes, Betty Long, Jim Price, John Dahlstrom, Randy Bock, Steve Brown, and Susan Osborne. Meetings were held monthly for one year to develop the plan.
"Many times, planners don't get to plan, but only react. This is an exception," Pilkenton said. "With this plan, we can see the future of this community come together."
Pilkenton said that every action item in the plan is a recommendation which would require action from the Alexander County Board of Commissioners, such as zoning amendments, public hearings, etc.
Two community meetings were held to allow public input and inspection. The December 2018 meeting attracted approximately 70 people who were asked to list the community's assets, as well as their concerns and vision. The September 3rd meeting attracted more than 125 people who were able to view the plan and ask questions. Pilkenton said they received a lot of positive feedback on the plan.
Here is an excerpt from the plan's introduction: "Bethlehem will be experiencing a great deal of change, due to the widening of NC Highway 127 and its proximity to the City of Hickory, the Catawba River, and Interstate 40. The plan will be a fundamental policy document that will help guide the community's growth and development over the next 20 to 30 years. The plan provides a vision of how the community should look in the future and clearly defines the steps that should be taken in order to realize that vision. By following this plan, Alexander County will continue to create the conditions that encourage orderly growth and economic development well into the future."
Transportation recommendations include: maintain a good working relationship with NCDOT Division 12 and WPCOG in order to coordinate land use and transportation planning for new and updated roadway corridors.
Resources and Services recommendations include: explore new recreational opportunities for the Community and its citizens; identify and acquire land in strategic locations to encourage open space preservation, greenways, parks, and other passive recreation opportunities; and maintain relationships with Alexander County, City of Hickory, and Western Piedmont Council of Governments.
Natural and Cultural Resources recommendations include: protect Bethlehem's natural environment through orderly growth management techniques that preserve the rural areas of the community and safeguard its natural resources.
Economic Development and Tourism recommendations include: provide economic development information and local assistance to help recruit viable businesses and service industry activities; work to attract young adults, new residents, and tourism; and evaluate available properties throughout the community and encourage commercial development projects in appropriate areas.
Land Use and Growth Management recommendations include: review and update land-use regulations to ensure compatibility with desired types of development outlined in the plan; establish a cohesive, identifiable commercial center in the community and create a destination that encourages recreation and economic development.
County Manager Rick French noted that there are some corrections that need to be made to the plan, but nothing that would affect the document's integrity. Commissioners voted unanimously to approve the plan, with a corrected version to be presented at the next meeting.
In other business:
• Russell Greene, Director of Public Safety, received a "Key to the County" for his many years of service to Alexander County. Greene recently announced his retirement, effective September 27th.
Greene was hired as Fire Marshal in May 1999. In May 2005, he became Emergency Services Director. In February 2019, he was named Director of Public Safety (fire marshal, emergency management, and building inspections). Commission Chairman Dr. Jeff Peal presented the key, and said, "Russell has been a valued member of the Alexander County team, as he is an expert on most matters. In my opinion, you won't find a better man." Greene has accepted a position with North Carolina Emergency Management.
• Gary Herman, Public Information Officer, presented information about a visit by the governor's Hometown Strong team on August 26th. Approximately 25 representatives from various state departments gathered with county staff at the Rocky Face Park multipurpose building to discuss the county's priorities, needs, and concerns. The Hometown Strong team will review the information they received, and will follow up with county staff in the coming weeks and months.
• Commissioners approved a resolution in support of funding to meet the mental health, intellectual/developmental disabilities, and substance use disorder service needs of the citizens of Alexander County. County Manager Rick French said the state has reduced mental health funding by $458 million over the past four years. The resolution will be forwarded to state legislators and the governor's office.
• County Manager Rick French informed commissioners that a preconstruction meeting was recently held for the upcoming water line project. Buckeye Bridge LLC is scheduled to begin construction on September 23rd. The $4,816,729 project will add 71,090 feet of new water lines that could serve 295 households. The project is being funded with zero-interest and low-interest loans from the North Carolina Drinking Water State Revolving Fund. Eight-inch water lines will be installed on portions of Zeb Watts Road, Liberty Grove Church Road, Dula Loop, Ned Herman Road, Poly Bowman Road, Deal Farm Lane, Kirkpatrick Lane, Espie Little Road, Icard Ridge Road, Teague Town Road, B&T Lane, and Fox Court. Once construction begins, the project is expected to take approximately 300 days.
Alexander County Consolidated Human Services Board Meeting
The second meeting of the Alexander County Consolidated Human Services Board followed the commission meeting. The board meets every other month.
• Patricia Baker, DSS Director, presented a Medicaid Managed Care update to commissioners. She noted that Medicaid is a mandated program, and the state is transitioning approximately 1.6 million of the 2.1 million Medicaid and NC Health Choice recipients to Managed Care. She said there are approximately 7,800 Medicaid recipients in Alexander County of whom about 5,000 will be required to enroll. For 2018-19, Medicaid claims in Alexander County are projected to total $49,310,320. Local Medicaid recipients will have an open enrollment period in which they will have a choice of five plans. The Managed Care program is scheduled to have a statewide rollout in February 2020. Leeanne Whisnant, Consolidated Human Services Director, said staff is considering the possibility of hosting community forums to help recipients learn more about the program and choose the best plan. For more information, visit www.ncdhhs.gov/assistance/medicaid-transformation.
• Billie Walker, Assistant Health Director, presented the 2018 Community Health Assessment for Alexander County. The assessment, which must be completed every four years, is a process of collecting data from residents in a community and then analyzing the data to come up with a prioritized list of what the community has identified as health-related problems. Walker said the health department conducted a survey to gather public input from September 2017 to January 2018. The survey was distributed via email, websites, social media, media outlets, and paper copies. A total of 507 responses were received. The top health priorities were mental health, substance abuse, and healthy lifestyles. The health department will work on these priorities for the next three to four years to help solve/improve the health problems. Beginning in January 2020, the health department will begin offering behavioral health services. It was noted that approximately 75 percent of their maternal health clients (pregnant women) are using drugs and/or alcohol, so the on-site behavioral health services will help make positive changes for these clients and others.
• Christine Gates, Senior Center Director, presented a departmental update. The senior center has a main branch in Taylorsville, and satellite locations in Bethlehem and Stony Point. She said one of the major services offered is assisting clients with Medicare Part D drug plans. Gates noted that the Medicare Part D website has been overhauled, and is now experiencing issues. Open enrollment begins October 15th. She also mentioned the many activities that the senior center provides, including exercise classes, games, social activities, and much more.
The next meeting of the Alexander County Consolidated Human Services Board is scheduled for Monday, November 4th following the regular meeting of the Alexander County Board of Commissioners at 6:00 p.m.
The next meeting of the Alexander County Board of Commissioners is scheduled for Monday, October 7th at 6:00 p.m. in room #103 at the CVCC Alexander Center for Education, located at 345 Industrial Boulevard in Taylorsville.
Meetings of the Alexander County Board of Commissioners are recorded and available for viewing on the county's YouTube channel at www.youtube.com/alexandercountync. The meetings may also be viewed on the Alexander County Government Channel on Spectrum channel 192.