ALEXANDER COUNTY, NC (October 15, 2019) – Have you visited the new Alexander County Services Center? Employees, citizens, and businesses agree that the new centrally-located facility is a "one-stop shop" for conducting many facets of county business.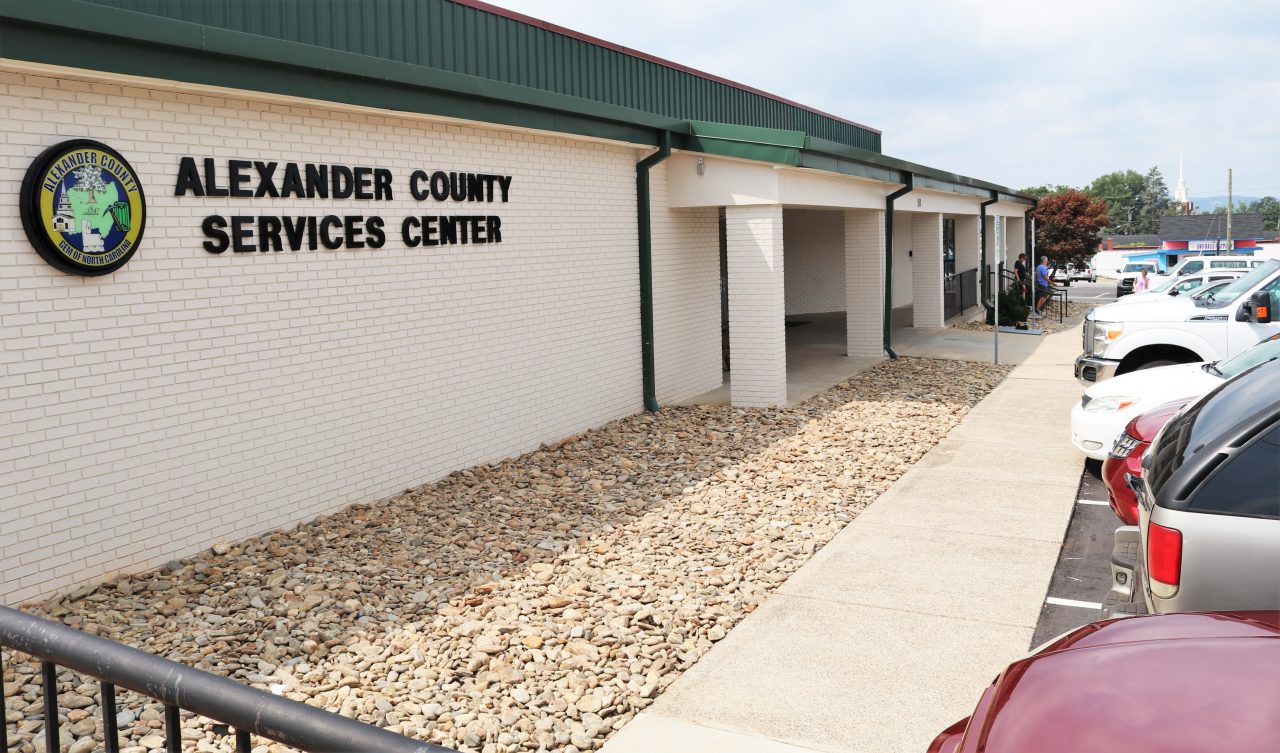 The building, located at 151 West Main Avenue in downtown Taylorsville, accommodates 10 county departments and divisions, including Tax Office, Register of Deeds, Parks & Recreation, Planning & Development, Building Inspections, Cooperative Extension, Soil & Water, Environmental Health, Geographic Information Systems (GIS), and Procurement & Compliance.
Dr. Jeff Peal, Chairman of the Alexander County Board of Commissioners, believes the new building provides much better access to county departments and improved customer service.
"The Alexander County Services Center is a true asset for our employees, citizens, and businesses because it centralizes so many functions of our county government," Peal stated. "Several of our departments were in substandard facilities and were not conveniently located. We're proud to have this wonderful building, which we believe will bring a lot of traffic and commerce to the downtown area."
The departments moved into the 20,000 square foot building one at a time, with the final move in late May 2019. As employees have adjusted to their new accommodations, the consensus has been very positive.
Guy Kerley, Tax Administrator, said, "Customers appreciate the new facility because they like the fact that there are multiple departments in one building. It is well designed and laid out. The tax office staff is also enjoying our new offices. The commissioners did a great job of creating an efficient space that consolidated multiple departments."
Kerley said that the Tax Office also utilizes the drive-thru window and depository that was installed by Community One Bank, which was the former tenant of the building, providing convenient access to the public.
Scott Hines, Register of Deeds, said his department has improved office and storage space, as well as enhanced customer service.
"We are really happy to be in the new building. We have a lot of space for the many records that we keep and better access for our citizens. We even have room for a new 'Marriage Kiosk' to help new couples get their marriage licenses," Hines said. "Everyone has been very complimentary about our new location and access to our services. This was a great move by the county as we can work more closely with other departments and provide better service to those who need our assistance."
Jon Pilkenton, Director of Planning & Development, said that many of his clients also utilize other departments that are now located in the same building.
"The Alexander County Services Center provides the citizens of Alexander County a location to do everything from applying for a building permit, paying taxes, or recording subdivision plats without leaving the building," Pilkenton said. "Its location in downtown Taylorsville will also help bring more people to the area and hopefully spur more economic development."
Bill Rogers, Chief Code Enforcement Officer, said he has heard many compliments on the new building and the departments that are housed there.
"The departments that are in the services center are there for a reason because they work together and serve much of the same clientele," Rogers said. "It's very convenient for both employees and customers, and the arrangement is working out very well."
The building is also being well received by Parks & Recreation customers and staff, especially for sports sign-ups.
"When we have registration open for our seasonal sports, folks are required to come to our office to fill out the paperwork, so now we're in a central location so parents don't have to drive out of their way to access our office," said Jon Presnell, Director of Parks & Recreation. "We've heard many positive comments about our new convenient location."
Lenny Rogers, Cooperative Extension Director, said his staff is enjoying their new offices, in addition to the kitchen and conference room.
"Our staff does a lot of food preparation and safety classes, and the kitchen is really nice and allows us to offer better service," Rogers said. "We also host a lot of meetings, and the conference room is very nice with new technology. I commend the county for making the Alexander County Services Center a reality."
Pamela Bowman, Education Coordinator/Administrator for Alexander County Soil & Water Conservation District, said the staff is enjoying their new offices and the convenience of working with departments that are located in the same building.
"The services center has allowed the Soil & Water office to collaborate more easily with other departments in our daily services," Bowman stated. "For example, we regularly call the GIS division for assistance with analyzing data, and they are now located across the hall from our office."
Leeanne Whisnant, Consolidated Human Services Director, oversees the Environmental Health division and believes the new facility was much needed.
"Environmental Health works hand in hand with the Planning & Development department, so being located at the same site is essential for day-to-day operations," Whisnant said. "The new building is a great asset with so many departments being conveniently located to provide easier access for our citizens to get needed services."
George Brown, GIS Administrator, agrees that the interdepartmental cooperation has improved and the central location is great.
"GIS works closely with a lot of departments, and it is very helpful to be in the same building with many of them," Brown said. "It's much more convenient for county staff and the public."
The Alexander County Services Center is open from 8:00 a.m. to 5:00 p.m., Monday through Friday. When entering the front door, Parks & Recreation is to the left, Tax Office is to the right, and other departments may be accessed down the hallway.
Phone numbers are: Tax Office – (828) 632-1100; Planning & Development, Building Inspections, and Environmental Health – (828) 632-1000; Register of Deeds – (828) 632-3152; Cooperative Extension – (828) 632-4451; Parks & Recreation – (828) 632-1104; Soil & Water – (828) 632-0638; GIS – (828) 635-3024; 911 Addressing – (828) 632-1376; and Procurement & Compliance Specialist – (828) 352-7760. For more information, visit www.alexandercountync.gov/departments.
View the photo album on the Alexander County Google Photos page.