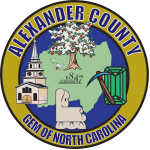 ALEXANDER COUNTY, NC (August 25, 2020) — The Alexander County Health Department continues to be hard at work with COVID-19 testing, contact tracing, reporting, and more. In addition, the department has now developed a "COVID-19 Situational Report," which includes local information about the virus in a graphical representation. The data includes monthly case trends, demographic information, and number of cases per zip code in an effort to keep the public informed.
Download the PDF to view the situational report, or view the slides below.
The health department continues to do drive-thru testing events on Mondays, Wednesdays, and Fridays, and other days if needed. If you need to be tested for COVID-19, please call (828) 632-9704 to make an appointment. Stay up-to-date with local COVID-19 information on the county's webpage.