Alexander County Government has received a CDBG-I (Community Development Block Grant for Infrastructure) grant in the amount of $894,750 from the State Water Infrastructure Authority. The grant will be used to fund a wastewater project for Stony Point Elementary School. Alexander County has committed $89,250 toward this project, bringing the project total to $984,000.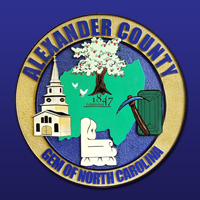 The scope of the project includes: constructing a pump station (with standby power), and installing approximately 2,900 linear feet of 4" force main, 600 linear feet of gravity sewer to connect the school to the new line, and abandoning the two existing septic systems to allow Stony Point Elementary School to function at a more efficient level.
Ronnie Reese, Chairman of the Alexander County Board of Commissioners, expressed his appreciation for the grant and believes this project will benefit the Stony Point community.
"We appreciate the State's investment in our community as we work together to provide critical infrastructure that will benefit Stony Point Elementary School and the surrounding area," Reese stated. "The county is pleased that we are able to assist the school system with this project, which will ensure reliable wastewater service at Stony Point School."
Julie Cubeta, Supervisor of the CDBG-I Program for the Department of Environmental Quality, said, "We are pleased to be able to award these funds, allocated by the General Assembly, to upgrade and significantly improve the school's water infrastructure."
This wastewater project is possible because of the Shurtape sewer project, which extended sewer service to Shurtape Technologies in Stony Point. Alexander County received a $930,560 grant from the Golden LEAF Foundation and a $278,640 grant from the Appalachian Regional Commission for the Shurtape project, which is nearing completion.
One hundred percent of the CDBG-I funding will be used to benefit Low-to-Moderate Income (LMI) people. The project area in Alexander County was income surveyed. Approximately 75% of the total service area responded, and more than 68% of the households were determined to be income eligible. The project area includes the student, faculty, and staff households of Stony Point Elementary School.
The range of activities covered by the CDBG-I funds for the Stony Point Elementary School Wastewater Project includes: construction, engineering design, construction administration and observation, legal activities, and surveying.
The Western Piedmont Council of Governments (WPCOG) applied for the CDBG-I grant on behalf of Alexander County, and will administer the grant. County staff will attend mandatory workshops on June 6 and June 7 in Winston-Salem.