December 8, 2021 — Alexander County Commissioners were pleased to hear a favorable audit report at their December 6th meeting from Claire Chase of Martin Starnes & Associates CPAs. Chase presented the 2020-2021 audited financial statements and issued an "unmodified opinion," which means the CPA firm found no material misstatements that led them to believe the financial statements would be misleading to the reader.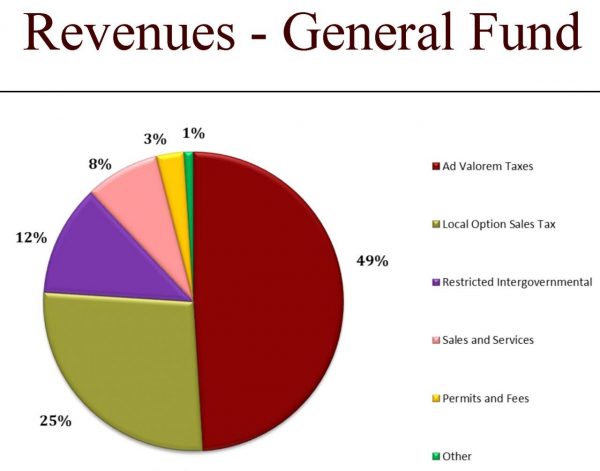 She reported that the General Fund Revenues were comprised mainly of property taxes at 49 percent, local option sales tax at 27 percent, and restricted intergovernmental (federal and state grants) at 12 percent. Property tax revenues increased $907,108 (4.3 percent). Local option sales tax increased $1,712,790 (16.4 percent). The restricted intergovernmental revenues increased $863,805 (19 percent).
In terms of General Fund Expenditures, the four largest areas of spending include: public safety (27 percent), human services (24 percent), education (17 percent), and general government (16 percent). Public safety expenditures increased $714,774 (6.7 percent). Human services expenditures increased $346,280 (3.6 percent). Education expenditures increased $343,363 (5 percent). General government expenditures increased $252,543 (4 percent).
General Fund debt balance as of June 30, 2021 totaled $3,396,000 (public safety) which will be paid off in 2026.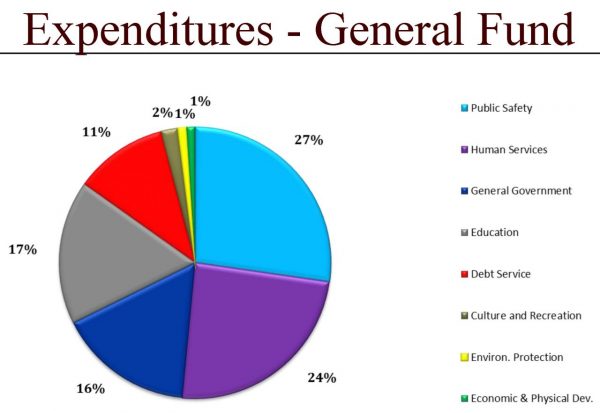 Available fund balance increased $6,017,075, which brings the county's fund balance percentage to 46.16 percent (33.34 percent in 2020) of total General Fund expenditures and transfers, for a total available fund balance of $19,195,572 ($13,178,497 in 2020). It was noted that the county's fund balance is favorable when compared to counties in the population group of 25,000 to 50,000 residents.
The Solid Waste Fund showed a budgetary net income of $120,013. The Bethlehem Water Fund showed a budgetary net income of $458,424, while the remainder of the county's water and sewer funds had a budgetary net loss of $7,328 due to recent water and sewer expansion projects. The county water and sewer fund has outstanding debt of $11,572,597, which will be paid off in 2035.
Two material weaknesses in internal controls were identified in the Medicaid program. The Department of Social Services has provided corrective action plans to the Local Government Commission.
Chairman Larry Yoder commended the Alexander County Finance Department staff for their professionalism, diligence, and hard work.
"I'm extremely pleased with the audit, and I'm proud of our staff and commissioners who have exercised caution and conservatism to keep the county in good financial shape. Our fund balance continues to grow year after year," Yoder said. "I especially want to thank our finance staff who do an excellent job year-round, but especially during the annual audit process."

• Commissioners elected Ronnie Reese as board chairman and Marty Pennell as vice chairman, effective January 1, 2022.
• In the County Manager's Report, Mr. French said he received a letter from Senator Dean Proctor stating that several projects in Alexander County will receive funding from the state. It appears that Alexander County will receive almost $6 million to pay for a new water tank, sewer extensions, water extensions, health department funding, as well as improvements to the Alexander Central High School tennis courts and track. Commissioners expressed their appreciation to Senator Proctor for his efforts on behalf of Alexander County.
He noted that interviews will begin soon for a DSS director and county attorney. Improvements at Wittenburg Access Area are underway, with the boat launch area closed through February 2022.
• Commissioners approved a resolution authorizing the sale of approximately 164 acres of land to Carolina Land and Lakes Resource Conservation and Development for the sum of $1.00. The property is located off Paynes Dairy Road near the county landfill. The non-profit plans to build and operate a wood pellet manufacturing facility as part of its bio-energy initiative to develop alternatives to fossil fuels. Alexander County is a member organization of Carolina Land and Lakes.
• Commissioners denied a rezoning request for a 0.92-acre parcel located at 95 Shook Valley Court. The property and all surrounding parcels are zoned RA-20, but the property owner requested that it be rezoned to H-C (Highway-Commercial) for the purpose of operating a pool company.
• Cody Bowers, Code Enforcement Officer, presented information at a public nuisance hearing regarding property located at 465 Jimmy Duncan Lane. Bowers said he received the first complaint about a junked vehicle in April 2021 and received a second complaint in July about untagged and junked vehicles in the back yard. Notices were sent to the property owner on July 9 and August 10, and a notice of public hearing was sent on November 16. David Elder, the property owner, was in attendance at the meeting. He said that he runs an automobile repair shop and drives customers' vehicles to his home until they pay for the repairs. He said there are three vehicles on his property that do not run. After some discussion, commissioners decided to continue the item until their January meeting so more information can be gathered.
• Bowers also presented information at a public nuisance hearing regarding property located at 260 7th Street SW. Bowers said he received a complaint in August regarding a junked vehicle, trash, etc. on the property. Notices were sent to the property owner on August 2 and September 7. He said the inspections department recommends abatement. Commissioners issued an order of abatement to begin after 20 days to allow time for the property owners to clean up the property.
• During the public comment period, Taylorsville Mayor George Holleman expressed his appreciation to commissioners and County Manager Rick French for constructing the new Alexander County Courthouse Park. "What you have done will make a difference for many people for years to come. I can't say enough how much this means to downtown Taylorsville," Holleman said. Town Councilman Jack Simms also offered his thanks for the park and for the Alexander County Services Center and the associated barn quilt wall on the east side of the building.
• Commissioners approved a proclamation declaring December 1-31, 2021, as "Christmas in Bethlehem."
• Commissioners approved the 2022 meeting schedule. The board will meet on the following dates: January 10, February 7, March 7, April 4, April 18, May 2, May 16, June 6, June 20, July 18, August 1, September 12, October 3, November 7, and December 5.
• Commissioners approved the 2022 holiday schedule. County holidays include: New Year's Day – December 31, 2021, Martin Luther King, Jr.'s Birthday – January 17, Good Friday – April 15, Memorial Day – May 30, Independence Day – July 4, Labor Day – September 5, Veterans Day – November 11, Thanksgiving – November 24-25, and Christmas – December 23, 26, & 27.
• County Manager Rick French presented 10 budget ordinance amendments, which were unanimously approved.
The Alexander County Board of Commissioners typically meets on the first Monday of each month at 6:00 p.m. in room #103 at the CVCC Alexander Center for Education. The next meeting is set for Monday, January 10 at 6:00 p.m. Regular meetings are recorded, and can be viewed on the county's Government Channel on Spectrum channel 192 or on the county's YouTube channel at www.youtube.com/alexandercountync. Meeting agendas, minutes, videos, and more are available on the county's website at www.alexandercountync.gov/commissioners.