ALEXANDER COUNTY (May 5, 2021) – The inaugural Alexander County 24 Hour race, which was the last-chance qualifier for the USA Track & Field (USATF) 24-Hour National Team, attracted 43 runners from 17 states and one Canadian province. The race, which was limited to 50 runners, was held on May 1-2 at the Alexander Central High School track. Four (4) people from Alexander County competed in the event – Luke Kiziah, Sonya Kiziah, John Blankenship, and Andrew Jackson.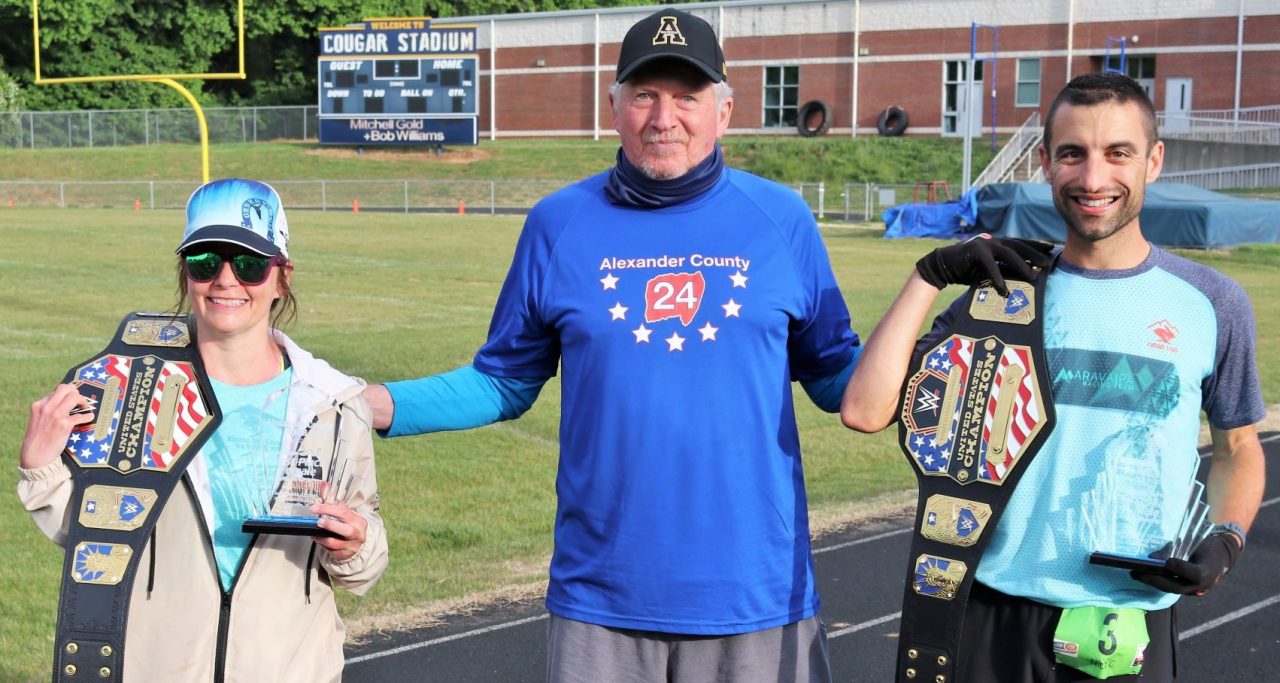 Runners traveled to Alexander County from the following states: North Carolina (16), South Carolina (4), Tennessee (3), Florida (3), Georgia (2), Michigan (2), California (2), Virginia (1), Oregon (1), Pennsylvania (1), Arizona (1), Massachusetts (1), Kentucky (1), Colorado (1), West Virginia (1), Wisconsin (1), and Illinois (1), plus one (1) from Whitby in Ontario, Canada.
The first-place male was Nick Coury, age 33 of Scottsdale, Arizona. He completed 595 laps for a total of 148.1377 miles. With this distance, Coury retained his spot on the USATF 24-Hour National Team.
The first-place female was Loretta Tobolske-Horn, age 49 of Brighton, Michigan. She completed 448 laps for a total of 111.5390 miles.
Rick French, race director and county manager, presented the winners with the 2021 Alexander County 24 Hour award as well as a special championship belt.
In addition to Coury and Tobolske-Horn, 13 others achieved the 100+ mile milestone, including: Lee Whitaker, age 47 of Fort Mill, SC (535 laps, 133.1994 miles); Joey Lichter, age 40 of Pembroke Pines, FL (446 laps, 111.0410 miles); Bob Hearn, age 55 of Portola Valley, CA (437 laps, 108.8003 miles); Sally Van Nuland, age 45 of Greensboro (418 laps, 104.0698 miles); Sho Gray, age 33 of Knoxville, TN (412 laps, 102.5760 miles); Mark Montaperto, age 50 of Waxhaw (410 laps, 102.0781 miles); Liz Bondar, age 52 of Rochester Hills, MI (408 laps, 101.5801 miles); Whitney Richman, age 40 of Midlothian, VA (404 laps, 100.5843 miles); Sung Ho Choi, age 45 of Jacksonville, FL (403 laps, 100.3353 miles); Viktoria Brown, age 45 of Ontario, Canada (403 laps, 100.3353 miles); Yvonne Naughton, age 43 of Bend, OR (403 laps, 100.3353 miles); Padraig Mullins, age 39 of Norton, MA (402 laps, 100.0863 miles); and Steve Troxel, age 61 of Jackson, TN (402 laps, 100.0863 miles).
Whitney Richman and Jacob Moss (306 laps, 76.1851 miles) also retained their spots on the USATF 24-Hour National Team.
Bob Hearn set the 12-hour national record for Male Age Group 55-59 and the 100-mile national record for Male Age Group 55-59. Viktoria Brown set the Canadian record for the Female Age Group 45-49 with her performance.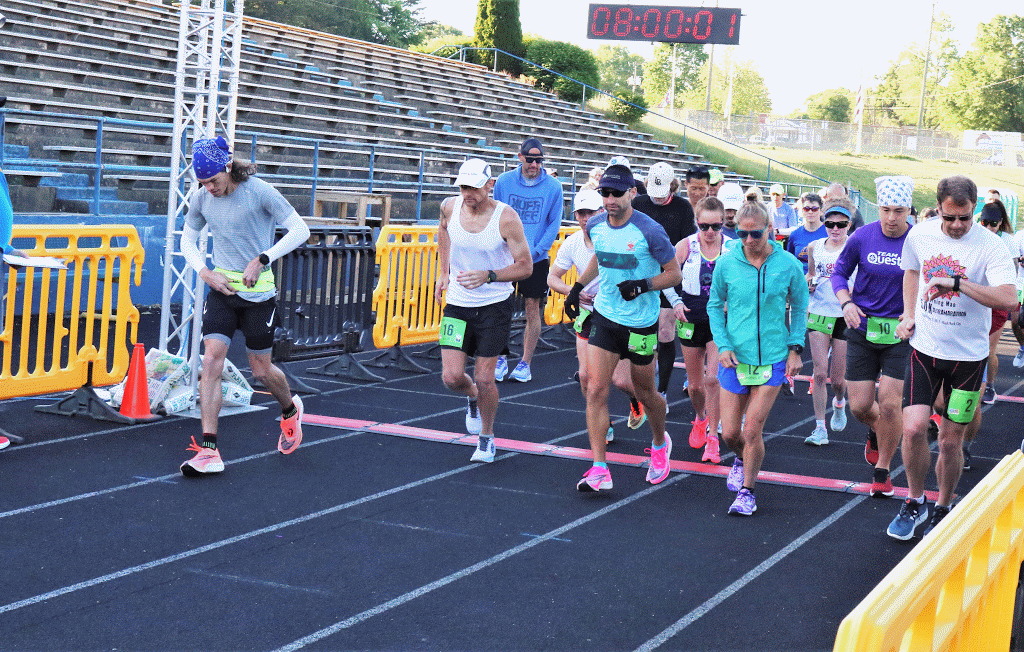 Alexander County resident Sonya Kiziah said her 17-year-old son, Luke, heard about the 24-hour race and they decided to compete since this unique event was being held in their home county and at Luke's high school.
"The Alexander County 24 Hour was a great event! I was not trained for a 24-hour race but we were very excited about the race. It was truly a unique experience," Kiziah related. "Thanks for Alexander County's efforts in putting the event together. Everyone involved seemed sincerely happy and positive which contributed to a terrific day."
Sonya completed 260 laps at the track for a total of 64.7324 miles, while Luke tallied 202 laps for a total of 50.2921 miles. In addition, local resident Andrew Jackson attained his goal of 50 miles with 201 laps and a total of 50.0432 miles, with John Blankenship completing 192 laps for a total of 47.8024 miles.
View the final results at www.bitly.com/2021-ac-24-hour-results.
View hundreds of photos and videos on Google Photos and on Facebook.
The 2021 U.S. National 24-Hour team qualification window was extended through May 2 since the 2021 IAU World 24-Hour Championship was postponed due to the COVID-19 pandemic. County Manager/Race Director Rick French spoke with Brandon Wilson of Wilson Timing Company and Brad Smythe of Clockwork Race Timing, and they decided to apply to USATF to host the last 24-hour qualifying event of the year in Alexander County. The application was approved, and plans were put in motion to make the event a reality.
Alexander County Government staff and the AC 24 Hour team would like to express their appreciation to those who competed in the event and to those who volunteered their time to make the event a success. The team extends a special thanks to Alexander County Schools and Alexander Central High School for providing an excellent venue for the event and for the ACHS staff's enthusiastic cooperation.
Plans are already underway to host the Alexander County 24 Hour in April 2022.
To learn more, visit www.alexandercounty24hour.com.