The year 2017 showed a lot of progress and promise in Alexander County as local officials and staff worked hard to make Alexander County an even better place to live, work, and play.
"A lot of positive things occurred during 2017 thanks to the hard work of our dedicated employees and the vision to make effective change in Alexander County," said Ronnie Reese, Chairman of the Alexander County Board of Commissioners. "Whether it's expanding the water and sewer, offering workforce training opportunities, attracting new industry, or finding ways to improve quality of life for our citizens with enhanced broadband service, it's obvious that Alexander County is on a positive path for our residents and businesses."
Perhaps one of the most exciting announcements in 2017 was on May 23, when Alexander County Economic Development Director David Icenhour announced that Borealis Compounds committed to purchasing the 50,000 square foot Alexander Railroad Shell Building in the Alexander Industrial Park. Borealis will initially invest $15 million in the new plant and will create 37 jobs. The project was a successful partnership between Economic Development Partnership of North Carolina, North Carolina Department of Commerce, Alexander County, Alexander Railroad Company, Appalachian Regional Commission, the One North Carolina Fund, the North Carolina Railroad Company, and the North Carolina Department of Transportation.
On a related note, the county pledged $298,349 to match a grant from the Appalachian Regional Commission to construct a new sewer pump station in the Alexander Industrial Park. The pump station is being relocated with expanded capacity to serve the new Borealis plant, any possible industry expansions in the industrial park, a 25-acre shovel-ready site, and other potential sites.
Another significant project is the Shurtape Technologies Job Retention Wastewater Project, which is currently about 90 percent complete. This project was another outstanding example of partnerships between the Golden LEAF Foundation ($930,560), the Appalachian Regional Commission ($278,640), and Alexander County Government ($185,000), for a total project cost of $1,394,200. The project includes installation of 18,000 linear feet of 6-inch force main sewer lines and a 175 gallon-per-minute pump station. Shurtape will no longer be dependent on its on-site, privately-owned wastewater treatment facility, which was aging and expensive to operate. This sewer project retains 160 jobs in Alexander County.
The Shurtape sewer project also provides opportunities for new industry location in the Stony Point community, as well as a possibility of extending sewer service to Stony Point Elementary School. In November, Alexander County applied for a Community Development Block Grant – Infrastructure (CDBG-I) from the North Carolina Department of Environmental Quality in the amount of $894,750 with a county match of $89,250. Notification of the application status is expected in April 2018.
The county is also providing vital infrastructure which will enhance opportunities for economic development in the Bethlehem community. The Bethlehem Sewer Collection System Extension and Pump Station Upgrade Project will include installation of 1,900 linear feet of 15-inch, 6,350 linear feet of 12-inch, and 10,500 linear feet of 8-inch gravity sewer lines; 12,150 linear feet of 8-inch force main; the upgrade of two pump stations; and installation of a new pump station. The county has applied for loans through the Clean Water State Revolving Fund program, with a $3,000,000 zero-interest loan and a $2,181,300 loan with a maximum interest rate of 1.91 percent over a 20-year period. Alexander County will provide $103,626 of local funds to pay a 2 percent loan fee, making the total project cost $5,284,926. Pending loan approval, construction should begin in the first quarter of 2019 with completion within 18 to 24 months.
Alexander County is also working to install water lines on seven different sections of roads which will provide residents with a safe and reliable water source. The project includes extension of water lines along unserved portions of Teague Town Road, Poly Bowman Road, B&T Lane, Ned Herman Road, Zeb Watts Road, Liberty Grove Church Road, Dula Loop, Fox Court, and Icard Ridge Road, for a total of 76,000 linear feet of water lines. The county has applied for loans through the Drinking Water State Revolving Fund program, with a $3,000,000 zero-interest loan and a $1,971,335 loan with a maximum interest rate of 1.91 percent over a 20-year period. The county will provide $99,426.70 of local funds to pay a 2 percent loan fee. Total cost of the water project will be $5,070,761.70.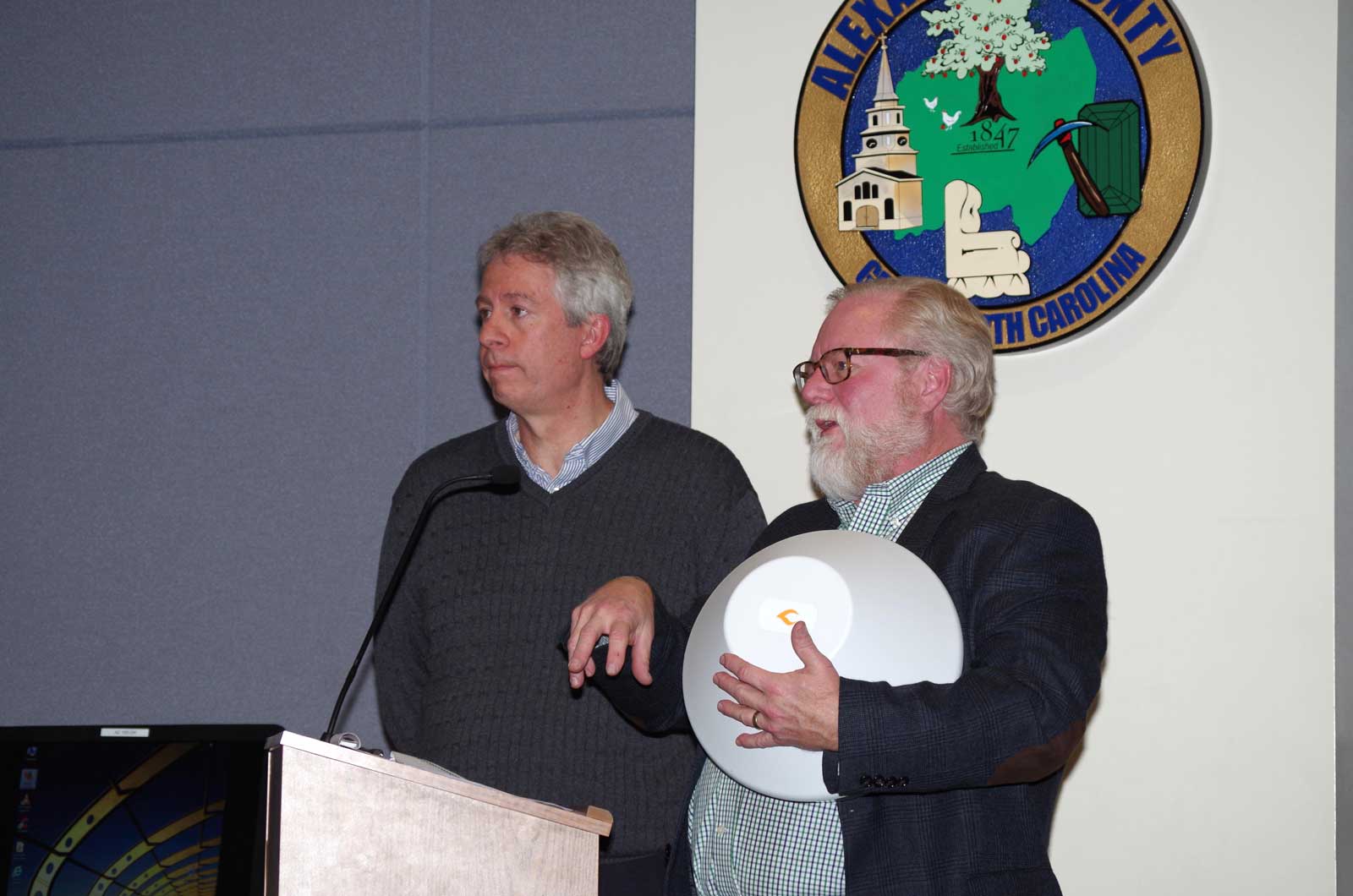 Alexander County is also seeking ways to improve broadband Internet service for residents and businesses. The county awarded a contract to Open Broadband LLC to complete a Broadband Feasibility Study, which showed potential in Alexander County based on the vertical assets (towers, mountains, etc.) and existing fiber optic lines. Open Broadband believes the most cost-effective route to improved broadband service would be utilizing fixed-wireless service and doing a "pilot program" with a new Internet Service Provider (ISP) at a cost of approximately $50,000 to deploy symmetric high-speed broadband in designated underserved areas. Alexander County will soon be issuing a Request for Proposals for a "pilot program."
The CVCC Alexander Applied Technologies Center has proven to be a true asset in Alexander County. The 37,500 square foot building houses the CVCC Alexander Furniture Academy and a welding lab, in addition to classroom space.
The furniture academy, which has graduated 53 students as of December 2017, opened in mid-2016 and continues to provide a much-needed training ground for furniture manufacturers in Alexander County. County officials saw the need for a workforce training center, and purchased the former Apparel Technologies property in 2012. With significant grant funding from the United States Economic Development Administration (EDA), Golden LEAF Foundation, Appalachian Regional Commission, and Duke Energy Foundation, along with county funding, this training center will serve Alexander County for many years to come. The county is appreciative of its relationship with Catawba Valley Community College, which operates the center.
Phase 2 of Rocky Face Mountain Recreational Area (Rocky Face Park) was completed in 2017, much to the delight of the park's thousands of visitors. Thanks to a $225,106 grant from the North Carolina Parks and Recreation Trust Fund (NCPARTF) and $325,106 in local funds, residents and visitors now have additional amenities at the park, including a multipurpose building with restrooms and office space, adventure playground, outdoor classroom, individual picnic shelters, wetlands observation area, and more. Rocky Face Park continues to grow in popularity across the region and the state. You can learn more about the park at www.rockyfacepark.com.
A public meeting was held on November 14, 2017 to share details and answer questions about the North Carolina Department of Transportation's plans to widen NC Hwy. 127 to four lanes with a median from Richey Road in Bethlehem to Cloninger Mill Road in Catawba County. Right-of-way acquisition is expected to begin in 2021, with construction to commence in 2023. The project, which is estimated to cost $30,800,000 in state funds, will improve traffic conditions and safety in the Bethlehem community. County officials are optimistic about the widening project as it will provide opportunities for residential and commercial growth in Bethlehem, while greatly improving traffic congestion.
"The year 2017 was very busy in Alexander County, with some major progress and planning for the future," Reese stated. "Fortunately, we have some wonderful partnerships with federal and state grant organizations which help us to make necessary improvements as we work together to make our community the best it can be for our citizens and our businesses. We look for great things to come in 2018 and beyond."